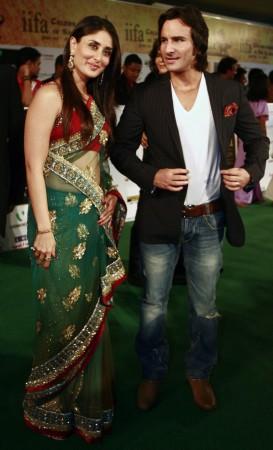 Saif Ali Khan and Kareena Kapoor's wedding is right around the corner and proud mother Sharmila Tagore is leaving no stone unturned for the grand day.
The arrangements and preparations of the much-awaited royal wedding of the year are in full swing and Sharmila is very busy preparing the list of guests who would be attending the event at the Pataudi Palace on Oct 16.
The much-hyped wedding will be a private affair and only close family members and friends would be invited. Sharmila is also said to have invited President Pranab Mukherjee for the main ceremony.
According to reports, Sharmila met the president at Rashtrapati Bhavan and invited him and his family to attend the event. Pranab sent his best wishes for Saif's and Kareena's marriage but is unlikely to attend the wedding as he has some prior appointments, Hindustan Times cited sources as saying.
The wedding is scheduled to take place on Oct 16 and two days later a grand reception will thrown for friends and family.
For the main event, Bebo will be wearing her mother-in-law's wedding outfit of a traditional kurta, dupatta and farshi paijama. The dupatta will be an original, while the kurta and farshi paijama are being recreated by designer Ritu Kumar.
"The original dupatta was in good condition, but the fabric was a little old and we had to re-line it. The whole process took us about four to six months. The new pieces also had to be made exactly like the older ones, with intricate embroidery. It's a time consuming process and requires highly skilled labour," Ritu said, according to the newspaper.