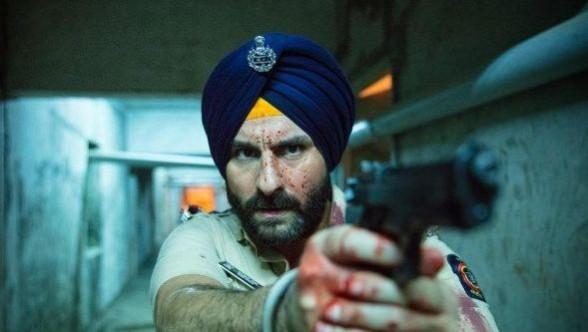 The teaser of Saif Ali Khan and Nawazuddin Siddiqui's much-hyped web series Sacred Games was unveiled on March 26 by Netflix India on its Twitter page.
Directed by Anurag Kashyap and Vikramaditya Motwane, Sacred Games, which premieres on July 6 on Netflix, is based on Vikram Chandra's bestselling novel.
Although the show looks promising, the teaser has upset fans as many are claiming that it is heavily copied from the opening credits of the popular HBO series, Game of Thrones.
Wtf? Indian Game of thrones?

— Aishwarya Pol (@Aishuya) March 27, 2018
Please release a small teaser as soon as possible or you will have a negative publicity on your hand that it is looking as a GOT knockoff.

— Amit Laxman Awaghade (@AwaghadeAmit) March 27, 2018
Sigh... Why can't we have some originality.... disappointed...#gameofthrones

— Daniv (@Dani031279) March 26, 2018
Ummm...why does this feel like an Anu Malik version of #GameOfThrones opening sequence?

— Gadgetwala (@ankitv) March 26, 2018
why is this exactly like Game of Thrones

— priya (@priya_ebooks) March 26, 2018
It features Saif as Sartaj Singh, a turban-sporting cop on the hunt of a gangster named Ganesh Gaitonde (Nawazuddin Siddiqui). The series also stars Radhika Apte, however, not much is known about her role.
According to Hindustan Times, the official synopsis of Sacred Games reads: "A policeman, a criminal overlord, a Bollywood film star, politicians, cultists, spies, and terrorists—the lives of the privileged, the famous, the wretched, and the bloodthirsty interweave with cataclysmic consequences amid the chaos of modern-day Mumbai. The series is based on the critically-acclaimed best-selling novel Sacred Games by author Vikram Chandra.
The series focuses on Sartaj Singh, a seasoned and cynical Bombay police officer, summoned by an anonymous tip one morning, a voice which promises him an opportunity to capture the powerful Ganesh Gaitonde, criminal overlord of the G-Company. As the stakes mount and Sartaj seeks knowledge of his prey, it becomes clear that the game the two players thought they were engaged in is, in fact, part of a much larger scenario, one that expands beyond their city."