Saamy 2 or Saamy Square (S2) is, in one word, fun. It is a fast-paced, action-packed, revenge flick that does not take itself too seriously. The audience is taken on a whirlwind journey, back and forth through three timescales and it is handled. . . . Well, let's say not as bad as one would expect from a film like this.
Being a Hari film, one would come to expect a certain type of scene and world building and S2 is no different.
The film starts off with a quick recap of the first film, offering a quick run through of events that led to the disappearance of Perumal Pitchai, the big bad from the first film. S2 continues exactly where Saamy left off, Aarusaamy is appointed to a small village where he beats up a few baddies and drops a social message about being respectful toward women and caste and community unity.
This is also when S2's main villain is introduced. played by Bobby Simha with a wanton sense of chaos and as loud, if not louder than Kota Srinivasa Rao. He plays Perumal Pitchai's son from Colombo- Ravana Pitchai (wink, wink).
The movie cuts to 28 whole years in the future from 15 years ago, so about 13 years into the future from 2018. This is where the audience is expected to suspend all sense of disbelief. Because 13 years into the future, the world looks suspiciously like it did three years ago. The movie makes no effort to even try and make the world look a little different.
We are introduced to strapping young IAS aspirant Ram Saamy, the hero of this film. Who goes on to become the assistant commissioner of Tirunelveli city and Ram takes down Raavana (wink wink) in typical Hari fashion.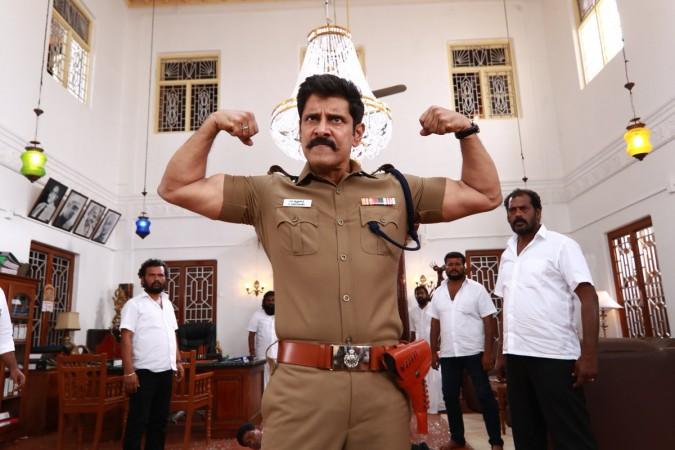 Apart from the flying cars, overused swooping drone shots, physics-defying stunts, and random "social message" scenes thrown in, the movie is not intended to be any more than it is. The best part is that it knows that it is a silly revenge film and revels in the fact.
About the things that just don't objectively work is the "comedy track". The original film had a stellar track that was peppered throughout with Vivek leading the effort with what was one of his greatest work. Comedy tracks are just not a thing anymore and Soori seems out of his depth when compared to just how much better Vivek was. It just seems to slow down the film. The scenes with comedic sounds every time Soori gets hit or falls down are just painful to watch and the movie could have been better without it. The songs are also a bit of an obstacle for the flow of such a fast film.
The biggest complaint against the movie overall is that it feels dated. The Tamil movie audience is a lot smarter than directors make them out to be and this movie has a number of strange scenes that take the viewers for a ride. There are instances where Saamy gets all fired up when a police uniform touches him. Just the act of a uniform coming into contact with his skin fires him up. Another scene when he enters a certain city (keeping things spoiler-free), electric poles get fried, a wind comes out of nowhere and coconuts start falling just close enough to bad guys to spook them). Saamy also has flashes of memory of his parents being killed, but they died before he was born. The movie hints at a reincarnation angle, that is well, just not delved into enough to justify the scenes.
Having said all that, the film still manages to be engaging and fun enough for most to look past these shortcomings. Also, about the cast, there is nothing that can be said about Vikram that hasn't already been written about before. The man has the charisma and acting ability to easily pull off this role. He is physically imposing and surely looks the part. The female lead, is, well, a female lead in a Hari movie. Bobby Simha as Ravana Pitchai looks like a good actor doing a Sri Lankan caricature, but it works, for the most part. He plays an angry man who is really smart, but also angry, all the time. If he's on screen, he's angry.
A fun film that most people would enjoy, so long as the critical part of the brain is put on hold.