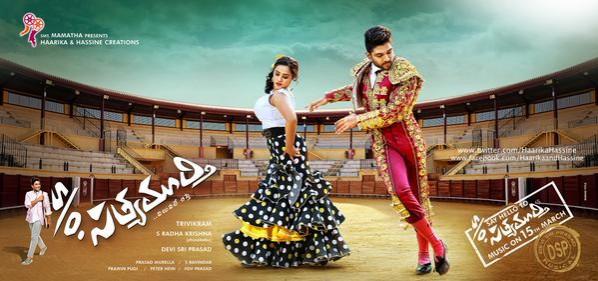 Allu Arjun's "S/O (Son of) Satyamurthy" has kept the cash registers ringing at box offices worldwide in the second week and surpassed ₹70 crore in collections in 15 days.
Having collected ₹38 crore nett (₹57.7 crore gross) in the first week, "S/O Satyamurthy" witnessed more than 50 percent fall in business on its second Friday. It was an unusual drop for a big-ticket Telugu film. The film had to face competition from new releases "OK Bangaram", "Budugu" and "Varadhi", apart from losing out on screen count.
Business picked up during the second Saturday and Sunday, with the second weekend collections grossing ₹4.55 crore nett (₹9.15 crore gross) at worldwide box offices, for "S/O Satyamurthy".
This took its 11-day global collections to ₹42.55 crore nett (₹66.85 crore gross), according to Andhra Box Office.
"S/O Satyamurthy" showed further dip in collections on its second Monday, but managed to stay rock-steady in the following days. The movie raked in approximately ₹2.50 crore nett (₹4.50 crore gross) at box offices worldwide during weekdays, taking its 15-day worldwide collections to ₹45.05 crore nett (₹71.35 crore gross).
S Radha Krishna has produced "S/O Satyamurthy" with a whopping budget of ₹40+ crore. The theatrical rights of the film have reportedly fetched ₹54 crore for the producer. Going by the latest collection details, the film's distributors have recovered 80 percent of their investments on the movie.
However, this week's new releases "Dohchay", "Kai Raja Kai", "Aloukika" and the Telugu versions of "Avengers: Age of Ultron" have snatched a large number of screens from "S/O Satyamurthy", which is sure to witness further drop in collections in its third week.
It remains to be seen whether the film manages to give its distributors a decent amount of profit.