If you think Bajaj Auto is done with taking pot shots at Royal Enfield, you are wrong. Well, the Pune-based two-wheeler maker Bajaj has released a new series of its 'Haathi Mat Palo' ads and again, Royal Enfield is at the receiving end, not just in one, but three ads.
'Haathi Mat Palo'-ad 1
The first part of the 'Haathi Mat Palo' highlights the braking ability of the Dominar 400. The new advertisement shows the ease of braking downhill with Dominar 400 while the hipsters, shown with elephants as the Bullet riders with the typical Bullet thump in the background score, struggle to stop their elephants and end up in a pond.
'Haathi Mat Palo'-ad 2
The second ad in the 'Haathi Mat Palo' series deals with the cold-start issue in the bikes. In the video, hipsters are seen struggling to get their elephants move on a cold winter day while the Dominar 400 riders start their vehicles with remarkable ease.
'Haathi Mat Palo'-ad 3
The third part of the latest 'Haathi Mat Palo' ads shows the hipsters on their elephants trying to make their way uphill but the Dominar 400 cruises up the slope with significant ease.
Also read: 2018 Royal Enfield Thunderbird 500X, Thunderbird 350X to be launched on February 22
The famous Haathi Mat Palo' first ad was launched in August 2017. The first video took potshots at Royal Enfield and the riders with the punch line in Hindi, "Haathi Mat Paalo" (loosely translated don't foster an elephant). It showed the pack of elephants making their way through corners and knolls struggling with riders on top before the Dominar 400 makes its 'powerful' entry, weaving through the pack with the punch line ''Haathi Mat Paalo".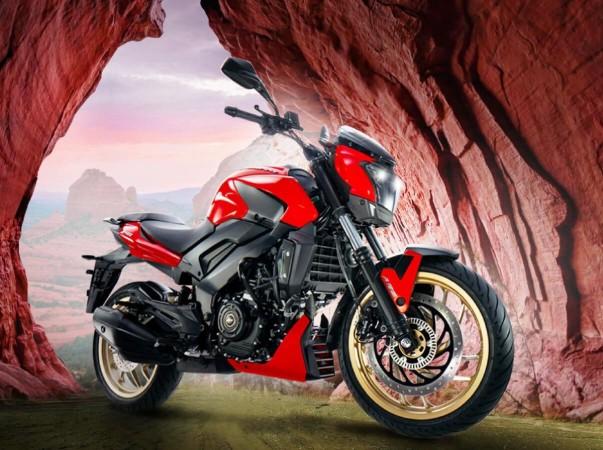 Although Royal Enfield fans responded with their own videos, the company is yet to come up with an official response. However, with the battle lines now drawn, it remains to be seen if there will be a response from the company.
Bajaj Dominar 400, which was launched in the country in December 2016, had shown good sales with over 3,000 units in its initial months in the market before the numbers went down in April 2017 to 2,500 units. Royal Enfield continues to rule the segment with over 80 percent market share with monthly sales over 50,000 units.