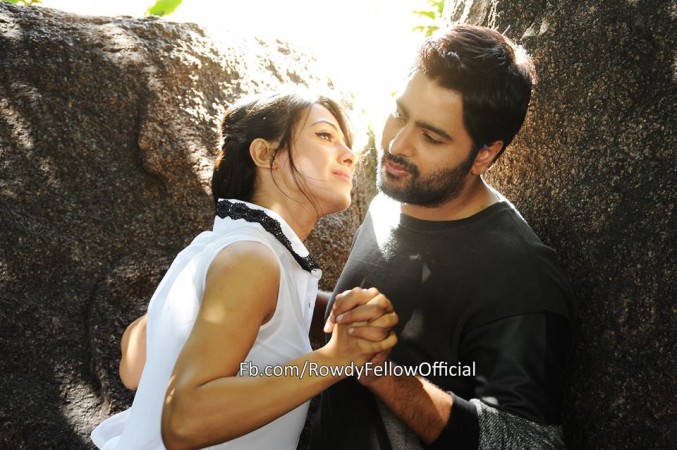 Nara Rohit's highly-awaited Telugu movie "Rowdy Fellow" has received a U/A certificate from the Regional Censor Board and is now all set for a grand release across the globe on 21 November.
The makers of Rowdy Fellow held a special screening for the officials of Censor Board earlier this week. The members are very impressed with the film. ""Rowdy Fellow" was cleared by the Censor Board with a U/A certificate. It is a clean family entertainer that people of all ages can enjoy together," said the producers in a statement to the media.
Censors feel that Rowdy Fellow will definitely impress film goers across the globe. "The members who watched the film also praised it plenty [sic] saying that it is sure to be a hit with the audiences. They appreciated the delicate balance of love, action, comedy and most of all the statement that the film tried to convey," add the producers.
Produced by Prakash Reddy, "Rowdy Fellow" marks the debut of lyricist Krishna Chaitanya as a director and scriptwriter. The film is a revenge drama that revolves around the story of a guy, who joins the police to settle scores after he is roughed up by a cop. The movie is loaded with all the commercial ingredients like romance, action, dance, comedy and music.
Nara Rohit and Vishakha Singh have played lead roles in "Rowdy Fellow," while Rao Ramesh, Posani Krishna Murali, Paruchuri Venkateswara Rao, Gollapudi Maruti Rao, Talluri Rameshwari, Ajay, Ahuti Prasad, Satya and Praveen appeared in the supporting cast. Sunny MR has composed the music for the film, while Aravindan P Gandhi handled the camera work.
The promos and music of "Rowdy Fellow" have soared up the audiences' expectations sky high. The makers of the film have grand plans for its release in Andhra Pradesh, Telangana, and other parts of the world. This movie happens to be Rohit's first film to release in 70 cinema halls across USA.