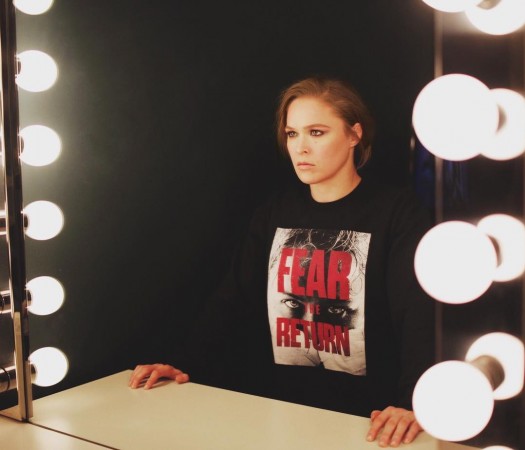 UFC queen Ronda Rousey has been heavily rumoured over the years to make her full-time entry to the WWE. However, all seems to have broken down following the arm-bar expert's two devastating losses in the UFC in two years — against Holly Holm and against Amanda Nunes.
Read: Ronda Rousey works with a new trainer!
However, Ronda might be down at the moment but she can still keep the flames of joining the WWE burning. The reason being that one of the legends of the pro-wrestling company has mentioned that he is keen on managing her.
That person is Paul Heyman, the current advocate and manager of Brock Lesnar. We all know about Heyman's skills with the mic and his experiences to groom athletes to become the best in the business.
"I'd love to see it [Ronda Rousey in the WWE] and would be happy to discuss with her all of the benefits that she could inure by being a Paul Heyman girl," Heyman told the Fight Society podcast this week. "I think the WWE audience would embrace Ronda Rousey with open arms.
"Just her name recognition alone is huge. It doesn't matter her past two experiences in UFC. All that matters is if she got involved in a story that people could relate to and could sink their teeth into and get excited about. I think Ronda Rousey doing anything in WWE is a natural fit."
Thirty-year-old Rousey, who has a 12-2-0 MMA record, became an instant favourite for the WWE fans following her cameo appearance alongside The Rock Dwayne Johnson at WrestleMania 31 in 2015. She teamed up with the Rock to pin Triple H and Stephanie McMahon in a fantastic WrestleMania moment.
Heyman feels that Ronda's charisma and personality can take her a long way in the WWE and she could be the perfect addition to the current WWE women's roster, featuring top talents like Nia Jax and Charlotte Flair.
"I would personally pay to see Charlotte versus Ronda Rousey. I would personally pay to see Stephanie McMahon versus Ronda Rousey for a completely different reason but why digress," Heyman said. "I tell you what, there are women in WWE, it's not just Charlotte, that could probably provide a compelling main event against Rousey.
"Look at Nia Jax. I mean you talk about someone that could truly make you believe she could kick Ronda Rousey's ass, Nia Jax is an impressive performer and a hell of an athlete as well.
"It's not like Charlotte is the only one who could be paired up with Ronda Rousey. There are others as well. The women's roster in WWE right now is unparallelled. In the history of pro wrestling or sports entertainment, there's never been a women's roster like this."