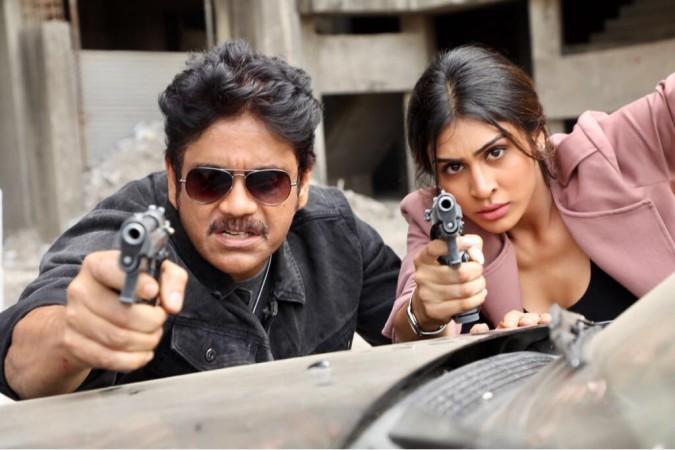 Ram Gopal Varma's next movie Officer starring Akkineni Nagarjuna is set to hit screens on June 1. But the film is yet to get the censor nod, which has raised doubt about its release date.
Officer was initially scheduled for its theatrical release on May 25, but the movie was postponed by a week due to an unforeseen delay in post-production. Ram Gopal Varma recently confirmed its delay and also revealed the reason for it on Twitter, announcing the new release date of the film.
Ram Gopal Varma and Akkineni Nagarjuna have already kick-started the publicity of the film Officer and as a part of its promotion, the duo held a grand pre-release function for the movie in Hyderabad on Monday.
Amidst all that, the latest we hear is that the action crime thriller is yet to get the green signal from the Censor Board.
It is reported that the Central Board of Film Certification (CBFC) has already watched the movie. The officials were seemingly flummoxed by the scenes of graphic violence in the film. While Ram Gopal Varma is okay with an 'Adult' certification for the flick, the censor board is apparently in two minds about letting some of the violence go scot-free, reports IANS.
Ram Gopal Varma admits that Officer has violent content, but he has also stated that it is crucial for Officer. Talking about its content, the filmmaker told IANS, "It is a film about the violent society we live in and one man's struggle to bring a semblance of sanity in the lives of common citizens."
Ram Gopal Varma added, "The violence in Officer is raw and real. You can't show the reaction until you spotlight the action. The violence here is not gratuitous. It will make the audience uncomfortable, as any form of violence is supposed to."
On the other hand, Bombay High Court has reportedly ordered an injunction and stopped the release of the film after a petitioner made allegations of copyright infringement against the makers. Ram Gopal Varma has claimed that the case is settled, but the High Court has reportedly kept it on hold till next hearing, which is on June 7.
With three days left for its release, Ram Gopal Varma is yet to confirm on clearing both these hurdles before the movie's release on June 1. Many in the film industry are left wondering if the makers will really be able to release the movie on June 1 or postpone it at the very last minute.