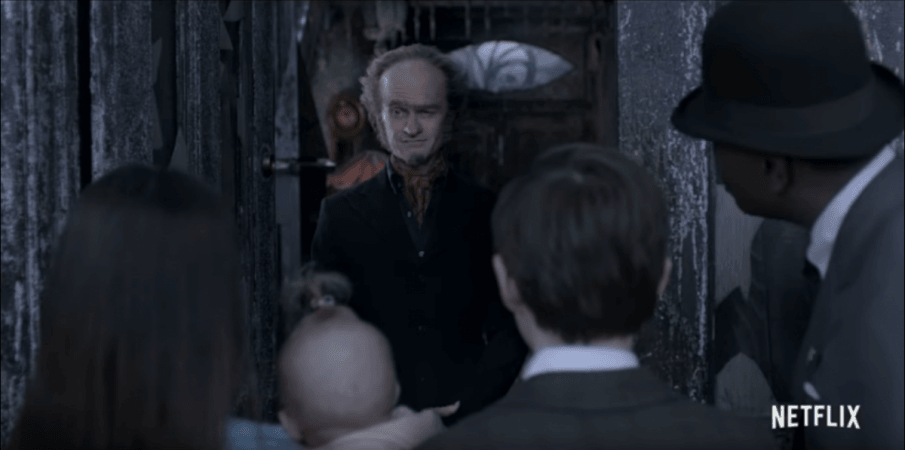 Netflix's Lemony Snicket's A Series of Unfortunate Events debuts on the online streaming platform today. Based on children's book that didn't believe in happy endings, A Series of Unfortunate Events was adapted as a movie earlier and now is a TV series on Netflix. Expectations from the show have been high since the movie version turned out to be a great disappointment for fans.
Also Read: From Marvel's Iron Fist to Emerald City, here are 10 TV series to binge in 2017
The popular series revolves around three children, whose parents die in an accident. The children are sent to their evil guardian, Count Olaf, who gives them shelter only because he wants to take over their fortune. Tragedy after tragedy and events after events, the series gets darker as the children are seen suffering at every point of life.
The show features Neil Patrick Harris as the evil Uncle Count Olaf, who is seen donning different camouflages in the show. The series will see Violet being played by Malina Wiessman, Klaus by Louis Hynes and their baby sister Sunny, played by Presley Smith.
The critics have reviewed the first season, which is based on the first four books of the 13-book series. Here is what they have to say about the dark series:
Critic Tom Gliatto from People.com compares the movie adaptation to the TV streaming and feels that Netflix's version is much better than the film. "The one thing the Netflix version doesn't quite have that the generally unfortunate movie version did is a sufficiently horrible Count Olaf. Harris is always nimble and flippantly funny, very good at capturing Olaf's dismissive sarcasm and rather casual sadism," the critic notes.
"But Jim Carrey's Olaf operated on a grander, more grotesque scale that threw a longer, deeper and more villainous shadow over the story. It was a hammy performance, but Olaf himself, with his love of acting, theater, costume and disguise, is a ham, too," he adds.
According to Entertainment Weekly's Jeff Jensen, the show is not completely depressing. "(The show) is an entertaining screwball fable for these topsy-turvy, post-truth times. Barry Sonnenfeld directs five of the eight installments and it's his best work in years. Harris, is absolutely marvelous as Olaf, embodies the effortless ease of that tricky navigation. The star's dynamic range and theatrical experience serves the character, and in turn, the character allows him to entertain in a myriad of ways. He's having a blast, and we share in his delight," he writes.
Agreeing with his opinion, The Hollywood Reporter's Keith Uhlich writes that the show makes you feel bad but in a good way. "Sonnenfeld seems energised and engaged here in ways that recall his charmingly baroque Addams Family films, as opposed to that recent purported comedy Nine Lives (2016). Meanwhile, ace production designer Bo Welch, who also directed the two-part season finale, has an imaginative, eye-popping field day with the sets — a nice mix of practical and CG elements that bring to life everything from a creaky shack perched perilously atop a cliff to an evil optometrist's office located in an ocular-shaped metal tower," he shares.
Neil Genzlinger of The New York Times called the show a cloud of marvelous gloom. "Harris's performance proves that there's an art to over the top. His Olaf is just as attention-getting, even scene-stealing, but somehow not irritating. He seems to be having a wonderful time being wicked, and he invites you, the viewer, to enjoy his enjoyment. The whole enterprise is wrapped in a big-budget look and served with a respect for the ability of young minds to perceive offbeat, incongruous humour, the very quality that made the books so successful in the first place."
The final verdict? You should completely binge watch A Series of Unfortunate Events. The eight-episode show is available on Netflix now. You can watch all the episodes here.