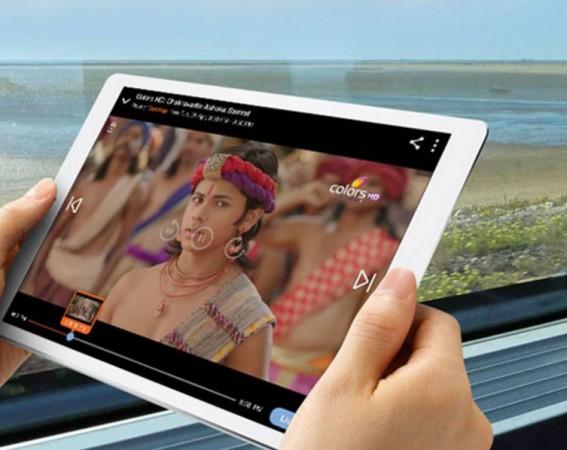 Reliance Jio is going places. After Reliance Jio telecom service, the company is reportedly working on broadband and DTH services too.
While news of Jio's GigaFiber 1Gbps broadband has gained some level of legitimacy even before the company's official announcement, there hasn't been anything concrete about Jio's DTH service so far. Reports have been inconsistent about the existence of Jio DTH service, but the latest leak makes it almost official.
Gizmo Times shared an image of a strange set-top-box and a remote control for Jio DTH, hinting at an official launch very soon. According to the report, Reliance Jio might make an official statement on its Direct to Home (DTH) service sometime in March or April.
By the looks of it, the circular set-top-box will connect to Jio GigaFiber or a dish to bring all the entertainment content and channels to your TV. The Jio STB includes an S/PDIF port, an Ethernet port, an HDMI and a USB port, much like a standard STB.
The remote control shown in the image is clearly of a Jio set-top-box. Jio logo on the RC, which appears to be a finished product, indicates that the service is in its final stages of testing.
The timing of Jio DTH and Jio GigaFiber launch seems to align and it would make sense for the company to launch both services at once. If the company goes through with the plans, Jio users will be able to get bundled services for their mobile, TV and internet from one operator.
Currently, Airtel is the only provider in all three fields and Jio's competition with the India's largest carrier hasn't been a secret. Sooner or later, we are sure to see Jio stand side by side with Airtel by offering competing services to consumers at a disruptive price.
If an earlier report is to be believed, Jio's DTH service could offer as many as 350 channels in its basic package priced at just Rs. 185 per month, which is merely half of what the customers are paying to get the service on Airtel Digital or Tata Sky.
Are you excited about Jio DTH service? Share your thoughts with us in the comments below.