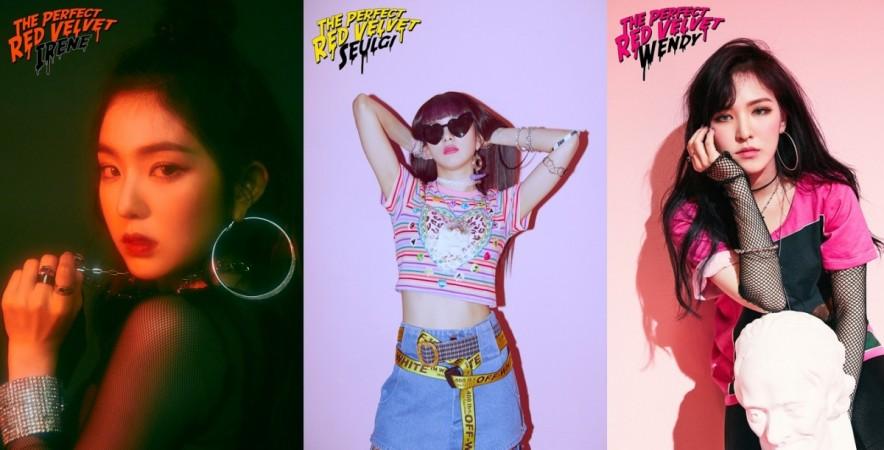 Red Velvet members Irene, Seulgi, and Wendy have recently revealed that they like sincere, trustworthy and caring guys as their partners.
"I think if someone lies that makes them a bad guy or bad girl," Seulgi said while Irene revealed that a guy who evades her is bad in her perspective.
Meanwhile, Wendy had a very different description for bad guys. "If I feel that I'm not being cared for or if I'm not being loved then the guy is a bad guy," she said.
Also read Korean Music Awards 2018 complete nomination list: BTS to compete with IU for Artist Of The Year
The K-Pop idols were interacting with actress Choi Hwa Jung on the SBS radio program Choi Hwa Jung's Power Time. During the show, the singers also spoke about their drinking habits.
"There aren't a lot of times when we drink all-together. We drink together at the end of the year, or if something good happened and we want to congratulate each other," Seulgi said.
Shortly Irene revealed that she cannot drink beer. "If I even smell it, it's a bit difficult," she added.
The K-Pop then said that she would like to spend time with Wendy if they ever get a vacation time. "I've said this before, but I want all the members to visit Wendy's home. Or I think it would be good if we took Wendy to our homes," she said.
Revealing the reason, Seulgi said, "A long time ago, I tried Wendy's first attempt at braised short ribs and it was really good. It was better than the ones at restaurants. I think it's because she put in a lot of sincerity."
In the meantime, Wendy shared her goal for this year and said that she would like to get her driver's license. "I like to cook. I like it, even more, when I see people eating my food and being happy," she added.