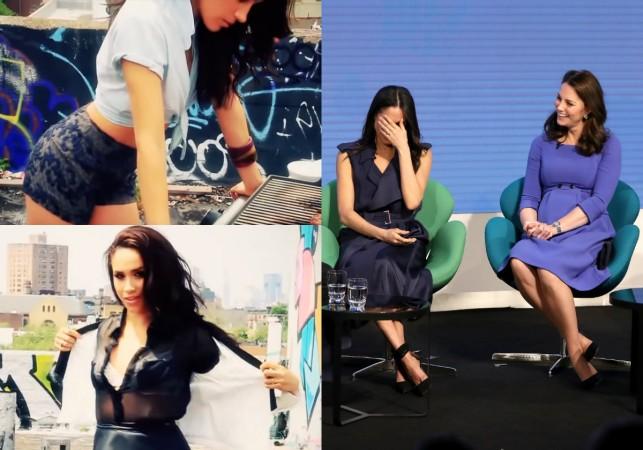 Meghan Markle might be a royal today but about 12 years ago, she played a sexy maid on CSI: New York. While the role was small and it was a decision she made when she had just begun her acting career, the sultry videos are now coming in the way of her sister-in-law, Kate Middleton's topless photos settlement.
It was previously settled that French magazine called Closer, who published the topless photos of the Duchess of Cambridge, were entitled to pay up £92,000 ($122,000) for invading Kate's privacy. However, lawyers are taking the help of Meghan's sexy footage to appeal the settlement.
According to Daily Mail, the lawyers are going to appeal against the £92,000 payout in the Versailles Appeal Court on June 13. The lawyers have two arguments:
The fine amount is excessive. Privacy complaints usually range from of £100. The lawyers argue that the Duke and Duchess of Cambridge do not deserve that kind of money.
Secondly, they could point out at photos and videos showing the Duchess of Sussex in steamy shots and revealing outfits to make a point that the British royal family has no issues with such steamy, sizzling photos as long as they are authorized.
Royal Oakes, a lawyer from Los Angeles, recently spoke to Inside Edition and shared that he wasn't convinced with the outcome of the case.
"It's kind of ridiculous to say that because an actress posing for some revealing photos then marries into the Royal family, somehow that makes it OK to take topless photos of Kate with a telephoto lens?" he said. "I don't think that's going to fly," he said.
Another unnamed legal source was quoted in the UK publication's story suggested that the younger Royals are increasingly behaving like celebrities thus leading to more paparazzi and scrutiny.
"They are happy with sexy photos of themselves when they are in control, but then claim huge amounts of money when they're unauthorised. There's ridiculous hypocrisy involved, and the outrageous compensation figure reflects this," the persona said.
It isn't just the CSI episodes footage that has landed the royal family in hot waters. Meghan also shot a raunchy steamy grilling shoot for Men's Health and it has the former US actress exposing a lot of skin.
Check out the Meghan Markle stripping video here:
Kate's topless photos were said to be from the Duchess and Prince William's vacation at a Provence chateau owned by the Earl of Snowdon back in September 2012. In the photos, Kate was seen wearing just a skimpy bikini bottom while William reportedly rubbed sunscreen on his wife's body.
William and Kate were seeking £1.4 million compensation but eventually closed the case with a compensation of £92,000.