One of the world's worst but most trusted myths is that we all have seven people or dopplegangers who look exactly like us. You must have encountered someone looking exactly like someone you know at some point in your life. We too had a similar moment when we saw these celebs for the first time. From Ranveer Singh – Shikhar Dhawan to Rahat Fateh Ali Khan – the static resemblance between these actors and the list of cricketers is uncanny and eerie. Take a look.
Ranveer Singh and Shikhar Dhawan: If Ranveer Singh is the 'King of Bollywood', Shikhar Dhawan is the 'Badshaah of Cricket, but, together, the resemblance between their appearance and antics is quite startling. From the moustache to the hyper-energetic mode, it's difficult to not see the similarities between the two.
Saeed Ajmal and Rahat Fateh Ali Khan: Two A-listers of their respective fields look so alike that it's difficult to say they are not from the same family. Ajmal's face is quite similar to Rahat Fateh Ali Khan's face. Their smile, chin, face-cut everything seems to have been borrowed from each other. Take a look.
Mark Ruffalo and Brad Hodge: Now, who wouldn't give away everything to look like Mark Ruffalo? And, what if you're naturally born with the same striking looks as Mark? We can only imagine how many girls would Brad Hodge be making go weak in their knees with such drop-dead gorgeous looks.
Pitbull and Herschel Gibbs: Chances are that at least once in your lifetime you must have gotten confused between the two. If not, take a look at see what we are talking about for yourself.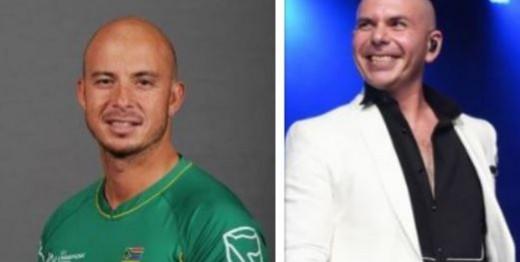 Ellen Degeneres and Joe Root: The same hairstyle, the same haircut, the same smile and the same infectious energy. Don't they look just like each other?