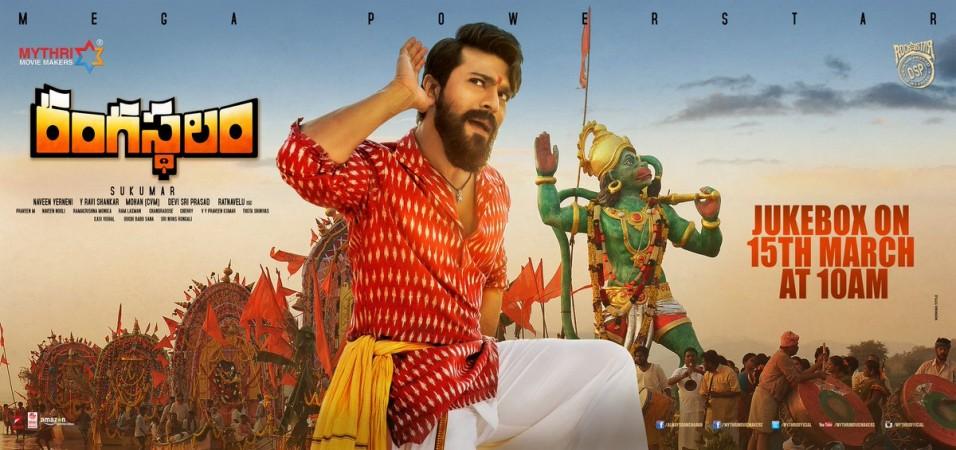 Phaneendra Bhoopathy (Jagapathi Babu), the "president" of Rangasthalam, has been exploiting the local uneducated villagers for several years. He murders people who file nomination papers for the post of the "president" — the village chief — and raise their voice against his tyrannical rule. Kumar Babu (Aadhi Pinisetty) is the brother of Chitti Babu (Ram Charan), who is a deaf sound engineer and is in love with Ramalakshmi (Samantha Akkineni)
Kumar is well-educated and decides to fight against the tyrannical rule of Phaneendra Bhoopathy with the help of Dakshina Murthy (Prakash Raj). But he is murdered by Murthy's henchman. What is the reason behind his assassination? How does deaf Chittibabu unravel the mystery and take revenge? The answers to these questions form the crux of the story.
Read: Rangasthalam Critics' review | Celebs' review | Audience's Review
Analysis: Rangasthalam deals with a tried-and-tested story. Director Sukumar makes it an interesting watch with his brilliant characterization and some twists and turns. But the film suffers from a lengthy and dragging narration. Although Sukumar has included some commercial elements, they can't help the director hold the viewers' attention for long. The climax is amazing and it compensates for everything.
But what is praiseworthy about Sukumar is his vision of the fictional village in the 1980s — the era Rangasthalam is set in — and the recreation of the ambiance. The director has given attention to every intricate detail. Though he has taken cinematic liberties in some places, they go mostly unnoticed by the filmgoers.
Performances: Ram Charan has undergone a makeover as a villager, who is also hearing-impaired. It is a challenging role for him and the mega power star has delivered his career-best performance, which is the highlight of Rangasthalam. Samantha Akkineni also impresses the show with her brilliant expressions and chemistry with Cherry.
Aadhi Pinisetty had a good scope for acting and he has done a brilliant job in Rangasthalam. Anasuya Bharadwaj stands out with her performance as Rangamma athamma. Prakash Raj, Jagapati Babu, Naresh, Rohini, Bramhaji and Rajesh Diwakar have done justice to their roles. Pooja Hegde manages to impress viewers with her dance moves in the item song Jigellu Rani.
Technical: The rich production values is the other saving grace of Rangasthalam after the performances of the lead actors. Devi Sri Prasad's songs are already a hit with the audience. Their placement is good and they gel well with the narration of the story. The background score elevates several sentimental scenes.
Picturisation, selection of location and costumes, action and dance choreography, and art direction are other attractions on the technical front.
Verdict: Rangasthalam boasts of sterling performances by the lead actors and rich production values, but the routine script and a lengthy and slow narration makes the movie a one-time watch.
Watch Rangasthalam official trailer here