Rambha has celebrated her 10th wedding anniversary with her husband Indran recently. The photos and a video of the their celebration have been shared by the yesteryear bombshell itself on her social media account which have now gone viral.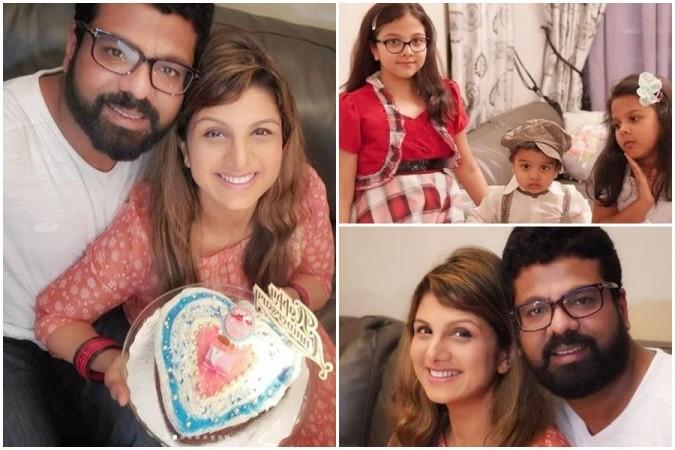 Anniversary Celebration
In the video, her three children - Laanya (9) and Sasha (5) and Shivin (2) - sing anniversay song for them and the couple cut the cake before a kiss. The once-glamarous actress posted the pics and the clip with the below caption:
Due to this current situation throughout the world, without no friends and relatives around us and just me, my husband, my kids(laanya, sasha & shivin), had a celebration - just by staying in the home.
This is one of the best function we ever had because it had a very personal touch & very intimate. We made our own arrangements within the home by helping each other. We baked the cake together which is very special than ordering outside. Every single part of the cake has our 10 years of love story. Overwhelmed with happiness, as my daughters- Laanya and Sasha made a surprise special card for us.
During hard times, still, we all can be happy with love & togetherness, which does not require any money nor any special gifts.
Everyone, #staystrong and spend your time with your family and #staysafe!
#tenyearsoftogetherness #quarantine #familytime #loveintheair
Rambha has claimed that they did not celebrate the event due to the Coronavirus outbreak across the globe. Nonetheless, she had a memorable time with her loved ones and has a special mention for her husband and kids.
How close was the Divorce?
Rambha tied the knot with Canada-based businessman Indran Pathmanathan in 2010. After the marriage, the actress bid goodbye to her acting career and settled in Toronto with her husband. She was also helping him in his business.
However, her relationship with her husband was rumoured to be strained at some point of time. In fact, he had applied for the divorce, but Rambha moved to a family court in Chennai requesting to restore her conjugal rights.
The actress reportedly mentioned in her petition that she wants to live with her husband, thereby invoking section 9 of the Hindu Marriage Act. Finally, the couple came for a compromise and sorted out their differences.