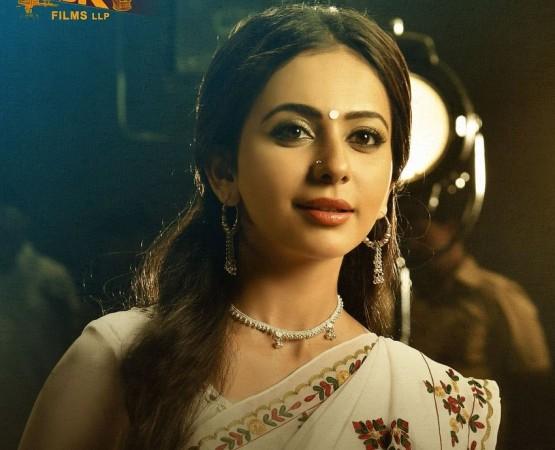 Nandamuri Taraka Rama Rao (NTR), the former Chief Minister who gained much popularity as a legendary Telugu actor and also as a dynamic politician is in news again. The life story of Nandamuri Taraka Rama Rao is now being filmed with the title 'NTR- Kathanayakudu' with a caption -- "The story of a man who defined the word protagonist in the Telugu Cinema's magnificent."
The latest poster release from the makers of NTR- Kathanayakudu has been creating a huge buzz over the social media. It was confirmed that actress Rakul Preet Singh is to portray Sridevi Boney Kapoor, the iconic actress who passed away in February this year at Dubai.
The first look poster featuring Rakul Preet Singh as Sridevi from the biographical movie NTR- Kathanayakudu is unveiled. As it is the birthday of the young actress Rakul Preet today (Oct.10), the makers of NTR- Kathanayakudu had unveiled the first look poster of her portraying Sridevi.
Rakul Preet's portrayal of Sridevi is termed as one of the most challenging roles for a young actress like her. In the recent media interaction, Rakul Preet had told that it is such an honor for her to have been chosen to portray Sridevi in NTR's biopic. She also stated that she is being very conscious of the looks and expressions, to look like Sridevi and live up to the expectations.
Rakul Preet took her Twitter to unveil the poster in which she is seen as the first lady super- Sridevi Boney Kapoor. Directed Krish Jagarlamudi has posted the first look poster of Rakul Preet on social media wishing the actress on her birthday.
NTR and Sridevi have acted in almost 14 movies together and they shared a good chemistry on the screen. Now that Nandamuri Balakrishna is playing the role of his father NTR in this biopic, Rakul Preet is to share the screen with Balakrishna to portray Sridevi.
NTR- Kathanayakudu is slated for its release on 9th December. Bollywood actress Vidya Balan is to appear as NTR's wife in this movie.