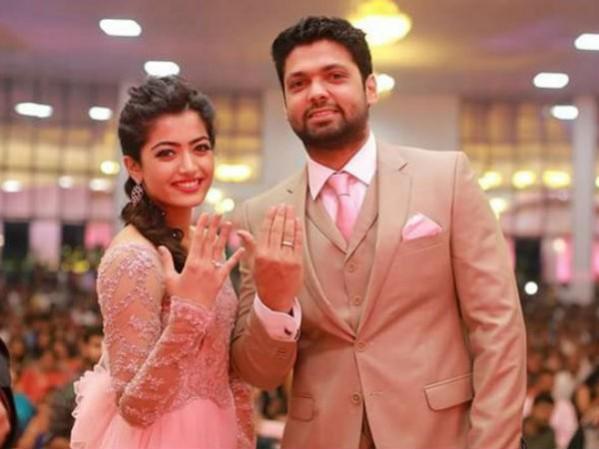 Kannada actor Rakshit Shetty has finally opened up on the rumours about calling off his engagement with actress Rashmika Mandanna and requested media and fans not judge her and let her be in peace. Rashmika Mandanna and Rakshit Shetty engagement pics.
The rumours about Rakshit Shetty and Rashmika Mandanna calling off their engagement have been creating a lot of ripples on the social media for the last couple of days. A lot has been written and spoken about the reasons for their breakup. Some even targeted the actress saying that she dumped him to keep her acting career going on.
Rakshit Shetty, who was staying away from the social media for some time, took to his facebook account to calm down the rumour mongers and his fans. In a detailed comment, the Sandalwood actor requested everyone to let Rashmika Mandanna be in peace, but didn't say a word about calling off the engagement. Here is his comment posted on Facebook.
To Respected People!

I had announced that I will be off social media to concentrate on other things. But I had to come back in order to clarify a few things, for what has been playing it from the last couple of days has been literally snatching away everything a person loved and lived for!

You all have formed opinions about Rashmika. I don't blame any of you because that's how it is projected. Everyone of us believe what we see and what is said. But it need not be true. Most of the time we come to a conclusion without even thinking from another perspective. I have known Rashmika for more than two years and I have known her better than any of you. There are many factors which are acting here. Please stop judging her. Please let her be in peace. I hope everything comes to a conclusion soon and you all will know the reality. Please don't go by any media news. None of them have first hand information from me or Rashmika herself. Many are creating their own news for their requirement. Assumptions are not reality.

Keeping this page live for few days so that this message is conveyed to everyone. I will be back when It's really needed and me leaving social media has nothing to do with any of this. I only want to concentrate on work since social media was getting addictive ☺

Regards

-Rakshit Shetty