Actor-dancer Rakhi Sawant has always been vocal about her personal and professional life with the media. The actress never shies away from speaking her mind. The starlet has of late been battling a lot on her personal front, she lost her mother Jaya Sawant last week. Her mother died of a prolonged illness caused by cancer and a brain tumour.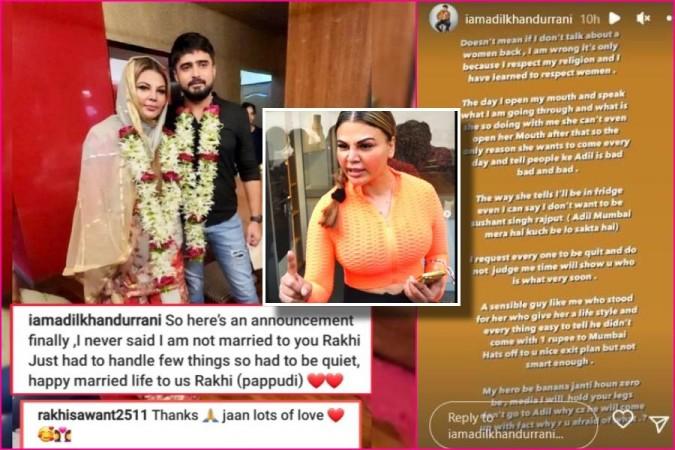 The actress is also facing issues on her marital front, Rakhi Sawant has levelled several allegations against her husband Adil Khan Durrani. Rakhi claimed that Adil is cheating on her. However, the duo have buried their hatchet and are back together. On Sunday afternoon, Adil was seen interacting with the paparazzi wherein he said, "I am back in the pavilion".
It seems all's well that ends well. From Rakhi saying "Main fridge mein nai jaana chahati" to Adil's befitting reply "I don't want to be Sushant Singh Rajput": Look at the Horrific claims made by the couple.

Adil claps back at Rakhi's claims
For the first time, Adil has broken his silence and has reacted to his wife Rakhi Sawant's allegations.
He took to Instagram stories on Saturday night and wrote, "Doesn't mean if I don't talk about a woman back I am wrong. It's only because I respect my religion and I have learned to respect women."
He added, "The day I open my mouth and speak what I am going through and what is she doing with me she can't even open her mouth after that. So the only reason she wants to come every day and tell people that Adil is bad bad and bad."
Adil added that Rakhi has asked media not to cover him anymore as he would tell them the truth. "'Main hero be banana janti houn zero be (I can make you are hero or a zero), media I will hold your legs don't go to Adil'. Why? Because he will come up with facts. Why are you afraid of that?"
On Rakhi's "fridge' comment
In her statement to the media, Rakhi had said that Adil had added that she doesn't want to end up in a 'fridge'. Adil reacted to that statement of hers as well. "The way she tell's I'll be in fridge even I can say I don't want to be Sushant Singh Rajput."
Referring to the recent horrific Shraddha Walker case, Rakhi said she comes to the media and talks about it because, "Kehte ho na media mein kyun aati ho, baat ghar pe hi rakho. Ghar pe reh ke na mujhe fridge mein nahi jaana hai. I will fight for my rights as a married woman." (People ask why I talk to the media about my personal issues. By keeping things at home, I do not want to end up in a fridge too.)
On Rakhi talking about Adil's girlfriends in the house of BB Marathi 4
Rakhi had said, "Through you all, I would like to warn the girl in Adil's life, who took advantage of the situation, when I was in Bigg Boss Marathi 4. I won't take her name, but I will show all their photos when the time is right. Adil made me remain silent about our marriage for eight months because of his affair with that woman. I was silent till now. He denied our marriage, and later because of the media he got scared and accepted our wedding."
All is well between Adil and Rakhi
On Saturday, Rakhi Sawant shared that her husband Adil Khan Durrani has come back o her, Rakhi said she doesn't want to give undue publicity to the girl. The actor added that she is ready to forgive him if he ended his affair and returned.