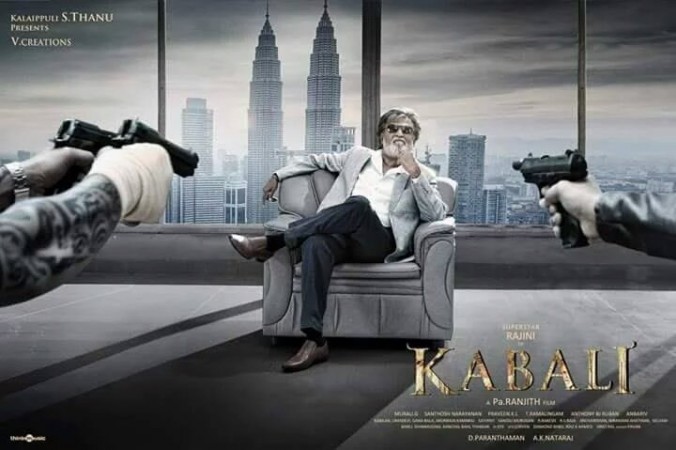 Rajinikanth's much-awaited movie "Kabali," which is set for a grand release on July 22, has reportedly been leaked online. Its alleged download could raise concerns over its prospects at the box office.
Check: Updates on Kabali Leak | Kabali Silver Coin Launch Photos
Reports suggest that links are being provided to view the complete film online or download "Kabali" in the Dark Web five days before its release in theatres around the world. "We've contacted the authorities to pull down all these unauthorised links to the film," the Hindustan Times (HT) quoted a source linked to the production as saying.
The censor board copies of Bollywood movies "Udta Punjab" and "Great Grand Masti" were recently leaked online, before their release. The piracy took a toll on their collection. The makers of "Kabali," are reportedly trying to keep its online leak as hushed as possible to prevent the leak from spreading. The makers are likely to request Rajinikanth's fans not to watch the film online.
When quizzed about the leak of "Kabali," Pahlaj Nihalani, the Censor Board chief distanced himself from it, saying the film has been censored in Chennai. He said that the leakage will not affect the collection of a movie featuring a superstar like Rajinikanth.
"They have not spared Rajinikanth either! Kabali was censored in Chennai, so it had nothing to do with our office in Mumbai. Earlier there was Salman Khan's Sultan. I don't think collections of films with iconic stars get affected by the leakage. It is the smaller films featuring non-A-listers which get hit by the leakage. Great Grand Masti is a case in point," HT quoted Pahlaj Nihalani as saying.
Abhijeth D (putfoo) ‏@abhijeth
Read news about #Kabali #piracy Lol even if people distribute free CDs, audience will watch this movie in a theatre!! #nerrupuda #Thalaivar
Pradeep kumar ‏@BeingPal
Itne to exam ke paper leak nhi hote jitna ab movies hone lagi hai :3 #Rajinikanth_Kabali leaked_online
SRK AND PK FAN ☔ ‏ ‏@SHAHRUKHDEVOTEE
Shocked my friend in hostel is seeing kabali tamil piracy in his lappy, wtf is this ? How it got leaked ?
Chiranjiv Santhosh ‏@kingchiru15
Did I hear something sad now? #Kabali print got leaked?. Can some one respond !