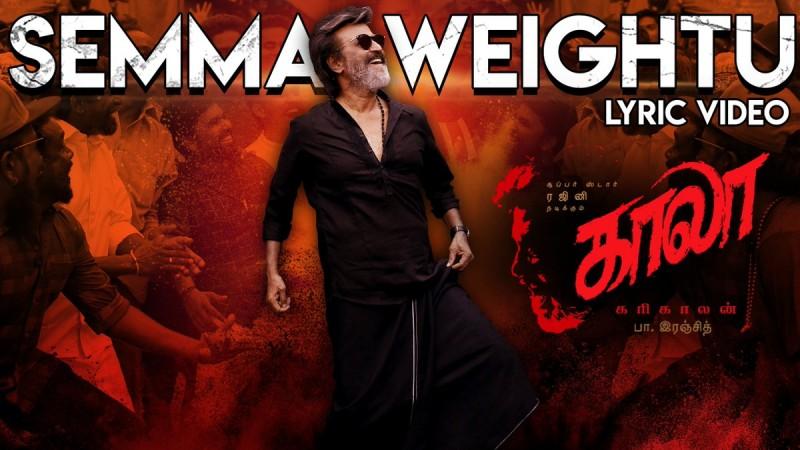 The first single from Kaala is out online.
Santhosh Narayanan has composed the music.
The track met with negative reviews.
The first single from Rajinikanth's forthcoming movie Kaala has met with negative reviews in large. The makers unveiled the songs from the three versions – Tamil, Telugu, and Hindi – on Tuesday, May 1.
Hariharasudhan and music director Santhosh Narayanan himself have lent their voices for the Tamil version of the song 'Semma Weightu'. Arunraja Kamaraj, Dopeadelicz, and Logan have contributed the lyrics.
The track decodes the atmosphere of slum and talks about Rajinikanth's character with retro music mixed with rap. The song has some powerful lines. Unfortunately, the song composition is not up to the mark and fails to register in the viewers' minds.
In the end, it turns out to be a below-average number, with the hopes that better tracks might be in store.
The audience too is not happy with the song. They are comparing Santhosh Narayanan's intro song of Rajinikanth in Kabali and declared that the latest number has letdown their expectations.
Here, we bring you selected-few tweets posted by the viewers, sharing their disappointment over the number:
Krithika©: I don't do this usually. But die-hard Thalaivar fan myself, I sincerely hope and pray that I don't get to listen to this another time, even by some chance, before the movie releases. Paata da ithu laam??! Lyrics nalla iruku and that's about it.
#SemmaWeightu #KaalaSingle #Kaala
Saranya Nadaradjane: Head phones la ketten therikkithu da saami. Innum kettukitte irukanum pola iruku. Lyrics #SemmaWeightuKaala #semmaweightu
Guru K: Sounds like ARR Peta Rap, if we listen to it closing the eyes. Same music style as kabali. No punch...voice sumaruuu #kaapa #semmaweightu
Akshay Natarajan: Ada ponga pa. Neruppu da feels suthama varla
#semmaweightu #Kaala
Lyrics looks powerful but song is very average
Yogesh: Lyrics looks powerful but song is very average. Sorry it doesn't register in our mind at all.. #SemmaWeightu
Priyanthan: Not really feeling this song by Santhosh :( Hope rest of the album's better.
#SemmaWeightu #Kaala
Gobyshankar: This is not what we expected from SaNa, #semmaweightu disappointing big time. #kaalaa
Kaala is a gangster movie, written and directed by Pa Ranjith. Rajinikanth's son-in-law Dhanush is producing the movie and Lyca Productions is distributing the flick.