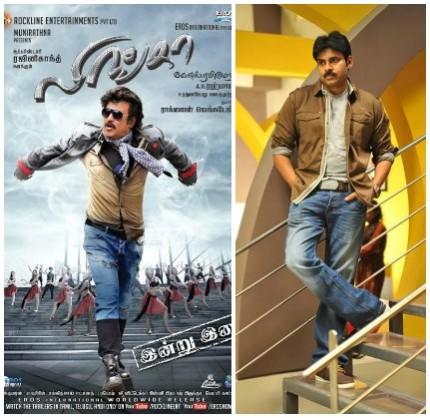 The successful run of a film depends on the popularity of the hero in the South Indian film industry and that is why the remuneration of many actors in this industry is very high.
South Indian film industry produces more than 500 movies in Tamil, Telugu, Kannada and Malayalam every year. The industry spends more than ₹1,000 crore on these films and nearly 50% of this amount goes as remuneration for the lead actors.
In 2014, the industry has released around 600 films (including a few in the next couple of weeks) for its credit. Some of them were made with mega budgets and the remuneration of heroes of these film was even more than the budget of many big-ticket Bollywood movies produced in this year.
Superstar Rajinikanth is the highest paid actor down South. He has reportedly been paid ₹30 crore for 2014 films, "Kochadaiyaan" and "Lingaa", each. Versatile actor Kamal Hassan, who stands next to Rajini, is said to have charged ₹25 crore as remuneration for his next movie Viswaroopam 2.
Pawan Kalyan, Vijay, Surya, Mahesh Babu and Ajith have charged more than ₹15 crore for a movie in 2014. The remuneration of Ram Charan Teja, Vikram, Junior NTR, Allu Arjun and Prabhas falls in the range ₹10-15 crore.
Here is the list of top 20 highest-paid South Indian actors of 2014:
| | | |
| --- | --- | --- |
| Rank | Actor's Name | Remuneration in Crores |
| 1 | Rajinikanth | 30 |
| 2 | Kamal Hassan | 25 |
| 3 | Pawan Kalyan | 18 |
| 4 | Vijay | 18 |
| 5 | Surya | 17 |
| 6 | Mahesh Babu | 16 |
| 7 | Ajith | 16 |
| 8 | Ram Charan | 12 |
| 9 | Vikram | 12 |
| 10 | Junior NTR | 12 |
| 11 | Allu Arjun | 10 |
| 12 | Prabhas | 10 |
| 13 | Dhanush | 8 |
| 14 | Karthi | 8 |
| 15 | Ravi Teja | 7 |
| 16 | Simbhu | 7 |
| 17 | Sudeep | 6 |
| 18 | Darshan | 5.5 |
| 19 | Puneet Rajkumar | 5 |
| 20 | Balakrishna | 5 |