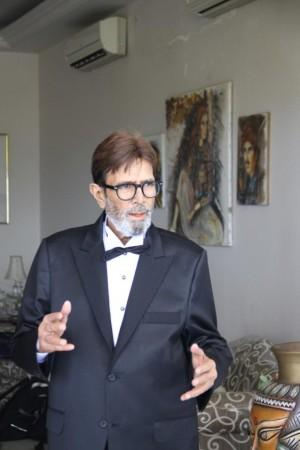 A week after being discharged from hospital, Bollywood superstar Rajesh Khanna was once again admitted on Saturday evening.
The 69-year old actor was admitted to Mumbai's Lilavati hospital, where he was treated earlier, over weakness in the body. His estranged wife Dimple Kapadia and younger daughter Rinkie Khanna are with him at the hospital.
Narendra Trivedi, COO of Lilavati hospital, confirmed the report that the actor was admitted over physical weakness.
Meanwhile, relatives and close friends of Khanna maintained that the actor's condition was not very serious.
"He was feeling low and weak so the doctor asked him to get admitted for a day. He has been put on saline drip. He may be discharged on Sunday evening or Monday morning," a family friend Bhupesh Raseen told The Times of India.
Earlier in June, Khanna's manager told reporters that the actor wasn't keeping well and stopped his food intake for the past three to four days.
"He is unwell, and at home. He has stopped food intake for three to four days. Dimple is continuously by his side and his daughter Rinke also visited him," his manager Ashwin said.
The actor dismissed the reports of the severity of his illness and appeared on the balcony of his home 'Aashirwad' on Mumbai's Carter Road, assuring his fans that he is doing well.
But his condition deteriorated and he was soon rushed to Lilavati hospital on June 23 due to exhaustion and weakness. On July 8, the actor was discharged from hospital.
Dimple Kapadia has been by her ex-husband's side since the time he had fallen ill. There were rumors that the Bollywood actress may be considering moving back with Khanna to take care of his him.
"The bond between Kakaji and Dimpleji is very strong these days. She knows how to cope with a health crisis, having taken care of her sister Simple during her illness," a source told a daily newspaper.