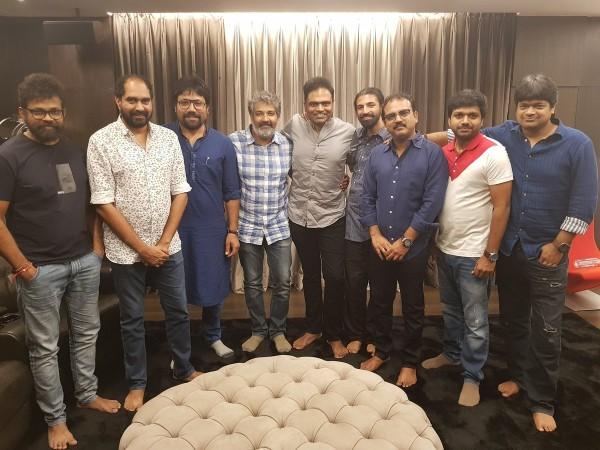 Acclaimed Telugu directors like SS Rajamouli, Sukumar, Koratala Siva, Nag Ashwin, Vamshi Paidipally, Harish Shankar, Anil Ravipudi and Sandeep Reddy Vanga had a get-together on Monday June 4 and their photos are creating buzz on social media.
There was a time when the Telugu film industry was known for its mass masala films, which rarely created buzz in the national in the international media. But the image of Tollywood is fast changing with the arrival of the new crop of young, dynamic and creative directors, who have taken the name and fame of the industry not just to the national level, but also international.
SS Rajamouli, Sukumar, Koratala Siva, Nag Ashwin, Vamshi Paidipally, Harish Shankar, Anil Ravipudi and Sandeep Reddy Vanga are some of these young directors. They are not just focusing on entertaining the audience through their movies, but also developing creativity and responsibility towards the society.
Along with Sukumar, Vamshi Paidipally decided to host a get-together party for all these ace directors at his residence in Hyderabad.
This morning, Vamshi Paidipally took this Twitter account to share a photo of this get together. The director also tweeted, "A memorable evening with these Amazing people at home... Thank You @ssrajamouli Sir, @aryasukku, @sivakoratala , @harish2you, @DirKrish, @AnilRavipudi , #SandeepReddyVanga, #NagAshwin for making this evening happen.. :)"
In reply, Anil Ravipudi tweeted, "'FUN'tastic......it's great evening...thanks for hosting this amazing meet ..Vamshi Anna...."
Harish Shankar tweeted, "Thanks alot for making it ra @directorvamshi "
SS Rajamouli also shared a photo on his Instagram and thanked Sukumar and Vamshi Paidipally for arranging the party. The Baahubali director also wrote, "With @directorvamshi and @aryasukku's initiative, met at Vamshi's place. Had a great gala time. Can never forget @sivakoratala's and @harish2you's stories and oneliners. All of us were laughing till 4 in the morning."
Their photos are now going viral on the social media, with many describing them as historic moment. In a reply to Vamshi, a fan named Chaitu wrote, "The future of telugu industry in one frame...keep doing great films and keep inspiring".
In reply to Rajamouli on Instagram, Aishwarya Chavala posted, "An Eye feast to all movie lovers...Really great to see you all together Sir..."
Sitaramaraju commented, "555@ssrajamouli feels so good to see all at one place. Reminds Me of my school batch reunion where we used to laugh till morning".