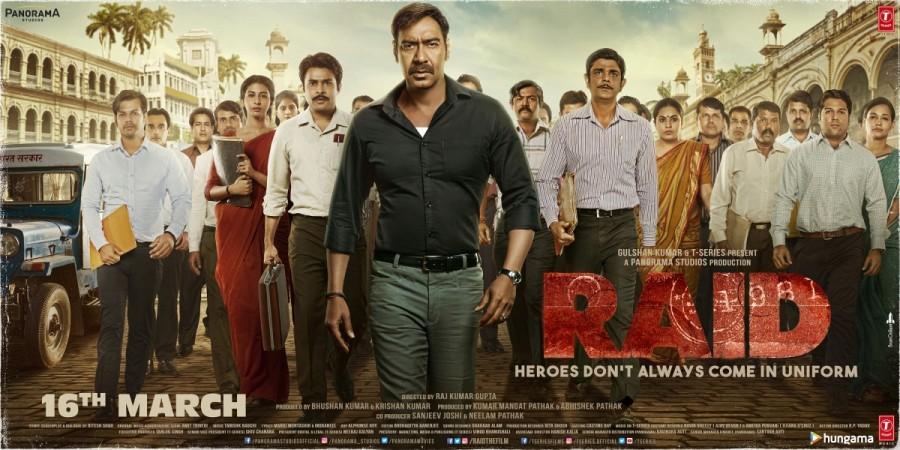 Ajay Devgn starrer Raid, which released in theatres on March 16, has received overwhelming reviews from critics and celebs.
While critics lauded Ajay and Saurabh Shukla's performances, they also called it a realistic movie with gripping storyline and nail-biting thriller. The audience are impressed with the punchy-one-liners in the movie.
Directed by Raj Kumar Gupta, Raid is inspired by a true story about money laundering.
The movie revolves around the story of Sharda Prashad Pandey, an income tax commissioner in Lucknow, who had raided the house of businessman Sardar Inder Singh in 1981 and recovered assets worth Rs 1.60 crore in cash and gold. The raid went on for 18 hours with 45 people present only for counting notes. Ajay plays the role of a fearless IT officer who carries out a non-stop raid at the mansion of the most powerful man in Lucknow. Whereas Ileana D'Cruz plays the role of Ajay's wife.
Going by the overwhelming reviews and ratings, the movie will surely work wonders at the box office.
Raid features Ajay Devgn, Ileana, Saurabh Shukla, Saanand Verma and Gayathri Iyer and is helmed by Raj Kumar Gupta. Apart from the main cast, the movie also features renowned theatre artists from Lucknow to make the story look more credible and realistic.
Take a look at some of the critics review of Raid:
Ankita Chaurasia of Bollywood Life said: Raid is a great watch if you want inspiration to file your IT returns on time. Raid is a decent watch, even otherwise. However, don't expect it to bowl you over.
Anna MM Vetticad of Firstpost said: At just 128 minutes and 3 seconds, Raid is just the right length for the written material it is based on. This is not the kind of fare you might expect to set your pulses racing, but that is precisely what Raid achieves in its closing scenes. Raid is not regular Bollywood. What it is though is thoroughly entertaining.
Rohit Bhatnagar of Deccan Chronicle said: The film has a perfect runtime of 128 minutes which makes Raid a decent one time watch. Second half is slightly dragged but it is backed by such engaging dialogues written by Ritesh Shah who has also pen the story and screenplay that it can be easily overlooked. Predominantly in a male centric film like this, it has an apt space for the leading lady Ileana D'cruz considering she plays the role of a wife of an IT officer. Director hasn't put any unnecessary effort to show heroine or songs around their love rather they are in the sync of the plot.
Rachit Gupta of the Times of India said: Director Raj Kumar Gupta handles the film well. The last 10 minutes seem a little fleeting, but that's a minor grouse. The music by Amit Trivedi and Tanishk Bagchi isn't consistent either. But Raid is a film that caters to public sentiment against black money and corruption. All in all, this one's right on the money.
Umesh Punwani of Koimoi said: Watch this for an entertaining story, edge of the seat kinda narration and first-class performances by Ajay Devgn & Saurabh Shukla. A Raid you'll not mind being a part of!
Bollywood Hungama said: On the whole, RAID is a realistic and hard-hitting thriller that keeps you hooked right till the end. A film that is sure to win accolades as well as positive word of mouth. This twisty tale is definitely a must watch movie this weekend.
Anita Iyer of Khaleej Times said: Ajay Devgn is good at playing an officer taking over the system, be it in Singham or Gangaajal but Raid pales in comparison. Maybe, it is a film for his fans who love him in this avatar but it is high time he reinvent himself.
While watching the movie, you can't help but draw parallels with Akshay Kumar's 2013 movie Special 26. Neeraj Pandey put out a pulsating thriller making us sit on the edge of our seats and that's where Raid fails. Go watch this film if you have no plans but go with zero expectations. Or maybe just skip it.
Meena Iyer of DNA said: Watch Raid because despite the corruption around us, we still believe we can win the war against black money hoarders. Also, watch it for Ajay Devgn's intensity. He is sincere, relentless and doesn't blink even once. One star in the rating is reserved only for him.
#OneWordReview...#Raid: SUPERB.
Rating:- ⭐️⭐️⭐️⭐️
This nail-biting thriller is smart, engaging, gripping and entertaining... Go for it!

— taran adarsh (@taran_adarsh) March 15, 2018
Here's what Bollywood celebs have to say:
My review of Raid:-
Loved it. Laughed, clapped and wanted to take Amma home with me !
Yugs review:-
I learnt about income tax!
???

— Kajol (@KajolAtUN) March 15, 2018