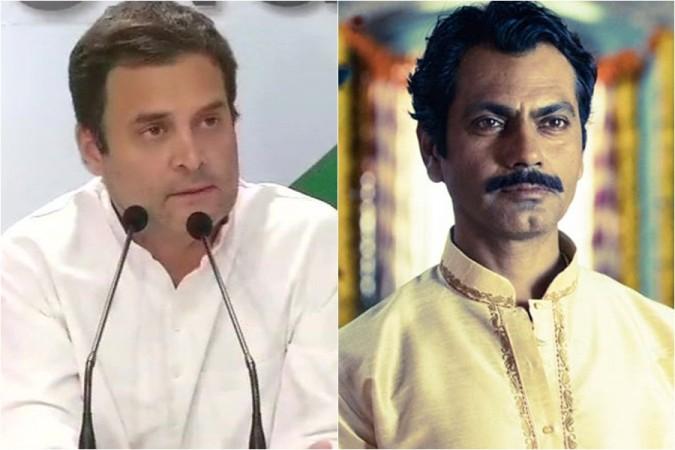 Congress President Rahul Gandhi has finally ended his silence over Netflix's series Sacred Games after a complaint was filed against actor Nawazuddin Siddiqui and the producers of the web series. It has been alleged that the actor had insulted former prime minister and late Congress leader, Rajiv Gandhi.
"BJP/RSS believe the freedom of expression must be policed & controlled. I believe this freedom is a fundamental democratic right. My father lived and died in the service of India. The views of a character on a fictional web series can never change that," Rahul Gandhi tweeted.
The opening scene of Sacred Games hits out at the Congress as there are episodes on Emergency imposed by the Indira Gandhi government, as well as the Bofors scandal and the Shah Bano case –events that created a storm during Rajiv Gandhi's tenure as Prime Minister.
The fourth episode of Sacred Games, titled "Brahmahatya", begins with Ganesh Gaitonde (a gangster played by Nawazuddin Siddiqui) accusing Mr. Gandhi of playing politics in Shah Bano's triple talaq case.
In the episode, Gaitonde says, "... Shah Bano ko alag jalaya, desh ko alag. She took her husband to court and won. But the prime minister told her to shut up and overturned the court's judgment. Even Hindus criticised him. To please them, Ramayan, the TV show, aired every Sunday morning when the entire country glued to their televisions."
Soon after the episode was streamed on Netflix, Congress member Rajiv Sinha wrote in his letter to Kolkata police, "Nawazuddin as Ganesh Gaitonde abused our late Prime Minister Rajiv Gandhi calling him fattu, which translated as pu*** in the subtitle."
A fresh plea was filed a couple of days ago by a Congress member seeking a stay on streaming or deletion of an episode of the web series. The Delhi High Court will hear the plea on July 16.
The series is based on author Vikram Chandra's similarly titled novel. It has been directed by Anurag Kashyap and Vikramaditya Motwane and also stars Saif Ali Khan, Radhika Apte, Kubbra Sait and Rajshri Deshpande in prominent roles.