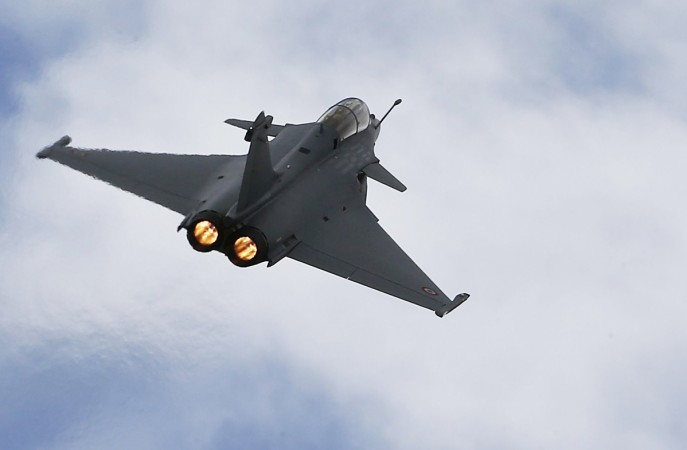 After prolonged negotiations, the Indo-French deal over 36 Rafale fighter jets has reached its last leg, with a high probability of it being cleared in the next Cabinet Committee on Security (CCS) meeting.
The CCS decision will be critical for the French, who are reeling under pressure, owing to the recent leak in documents on the Indian Scorpene submarines. The French would breathe a sigh of relief if the deal goes through.
All the negotiations and formalities on the part of the defence ministry have been completed, reported the Economic Times.
More than the French, it will be the Indian Air Force (IAF) who would be jubilant, as they have to deal with depleting fighter fleet strength. IAF has 34 squadrons, but requires 44 squadrons to take on both Pakistan and China in the eventuality of war in both theaters.
The negotiations have been going on from the time PM Narendra Modi announced that India would be buying 36 Rafale jets in government-to-government deal and in fly-away condition. But the deal did not move forward due to pricing and offset issues.
The defence ministry has further clarified the doubts raised by Prime Minister's Office (PMO) that has scrutinised the documents.
However this time around, the deal is likely to go through as the French side has "substantially lowered" the price of the aircrafts to around 7.25 billion Euros, and only "unforeseen complications" might impede its progress. Moreover, the French have reportedly offered 16 critical technologies as part of the offset package, that will be shared with Defence Research and Development Organisation (DRDO).
The French are also willing to invest 1 billion Euros to revive the Kaveri engine project according to media reports. They are also ready to share engine technology. This is a good news for the LCA Tejas project as India looks to induct upgraded Kaveri gas turbines from 2020 onwards.
Apart from this, Dassault, the manufacturer of Rafale will partner with a private Indian company to manufacture structural parts for its Falcon executive jets. Dassault has to deliver 50 per cent offset, which is expected to create business worth at least 3 billion Euros for Indian companies.