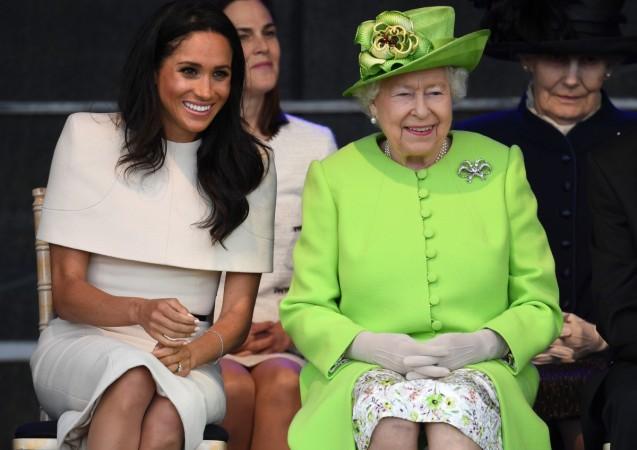 From a bridge opening ceremony to watching a dance performance, Queen Elizabeth II and Meghan Markle completed a day of royal engagements at Cheshire on Thursday sans Meghan's husband Prince Harry. Interestingly, this is Meghan's first solo trip with the Queen—remember, it took almost a year for Kate Middleton to go on a solo trip with the Queen.
Ever since the duo boarded the royal train to kickstart their all-girls trip, a lot has been spoken and written about the Queen's sizzling chemistry with Meghan. The crowd gave a warm welcome to the duo with claps and cheers. Indeed, we have never seen the Queen smiling so cheerfully in the recent past. Looks like Meghan is truly putting her heart and soul to completely integrate into the royal family—it is quite evident from the transformation of her body language from a model to a real-life princess.
Clad in an egg-shell coloured Givenchy cape dress Meghan looked very comfortable with the Queen—who stood out, as always, in a bright green attire—while opening a new toll bridge over the River Mersey. Later, the duo visited Chester's Storyhouse, a new library, theatre and cinema hall in the city. They wrapped up the schedule following a dance performance and lunch at the Cheshire Town Hall.
Apart from the Queen's interesting chemistry with her granddaughter-in-law Meghan, what caught the attention of many was the latter's dazzling pearl and diamond earrings. Well, the news is that the Queen herself has gifted those pair of earring to the new bride. "It is unclear if they are from her personal collection or bought especially for the Duchess," ENews reported.
It may also be noted that the Queen had earlier loaned her Mary's Diamond Bandeau tiara to Meghan for her wedding with Prince Harry at the St. George's Chapel on May 19.