PUBG Mobile is down for all users from 00:00:00 to 08:00:00 (UTC) on July 23, says in-game notification.
In India, the servers were expected to go offline from 5:30 a.m. till 1:30 p.m., but our independent testing confirms PUBG mobile is back online as of Monday noon.
The maintenance is to release the major 0.7.0 global update in the game to add new features.
PlayerUnknown's Battlegrounds or PUBG attracts hundreds and thousands of players online and it is one of the best-rated first-person-shooter games on mobile platforms Android and iOS. But players of the critically-acclaimed mobile game won't be able to play the game for several hours on Monday.
PUBG mobile players are being welcomed by a "maintenance notice," informing them of an extended downtime lasting nearly 8 hours. The pop-up notification says PUBG mobile will be "taken offline for maintenance from 00:00:00 to 08:00:00 (UTC) on July 23, 2018."
During this downtime, players won't be able to play PUBG on their smartphones, but the notification says the service could be resumed sooner or later depending on the progress of the maintenance. But it is most likely to be resumed within 8 hours rather than extending for longer.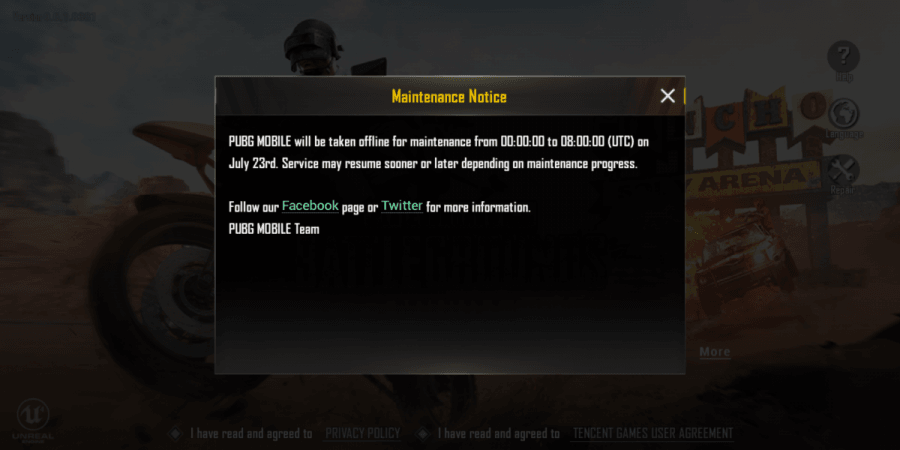 PUBG developer Tencent Games hasn't revealed the exact reason behind the maintenance but the last time a similar downtime took place, it was to add Season 2 content. Tencent made more than up for the downtime by adding series of new items for players to enjoy, such as the lauded Miramar desert map, new vehicles, and guns.
PUBG mobile was also updated with sniper support and new fog mechanics in Arcade Mode, new achievement avatars, new profile options and scope toggles. What the latest downtime is all about remains a mystery for now, but we can expect something exciting.
While Tencent is enjoying the success of PUBG's mobile debut, the 100-person free-for-all shootout game got itself entangled in a major controversy for including a pack that contained a pilot mask with a decoration resembling the Imperial Japanese Military's "Rising Sun" insignia. PUBG apologised for its reference to Japan's military regime during World War II, and issued refunds to those who purchased the items.
"We apologize for causing concerns over a pilot mask item," PUBG Corp said in a statement on an official fan channel, The Korea Times reported. "We will conduct an overall re-examination of our image production process to prevent such a recurrence."
PUBG debuted on the mobile platform in March and has since been one of the most popular mobile games. The free game, which has in-app purchases, is more popular on Android than its iOS counterpart. PUBG is closely rivaled by the rising popularity of battle royale game Fortnite on iOS.
Is the latest downtime for nearly 8 hours an attempt to improve the game-play on Android and iOS? We'll know soon enough. Stay tuned for updates.