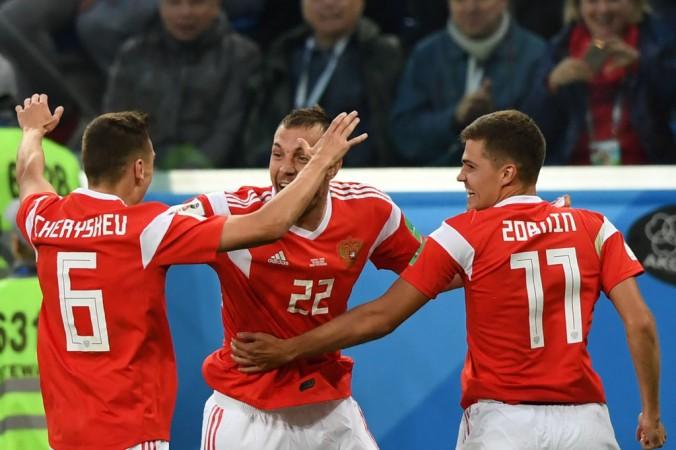 As the football world cup fever has gripped all nooks of the globe, a goat named Zabiyaka from a zoo in Samara in Russia is sensationally predicting the winners of each game in the tournament.
During a special event conducted at the Samara Zoo, the 'psychic' goat predicted the results of the upcoming match between Australia and Denmark on June 21, 2018.
Australia vs Denmark: Zabiyaka's predictions turned true
When asked to predict the result of the game, the goat, without any hesitation revealed that the game will end up in a draw.
During the event, the authorities offered food branded with the flags of respective countries, and interestingly, the goat rejected both the food bowls. Interestingly, after rejecting the food bowls with the country flags, Zabiayaka went straight to another bowl which was marked 'draw.'
Interestingly, the match between Australia and Denmark ended up in a draw (1-1). As Zabiayaka's predictions became true, the goat has become an internet sensation, and football fans are now eagerly waiting for her upcoming predictions.
Zabiyaka was selected for predicting the results of the world cup after facing severe competition from other 'psychic' animals in the zoo including a squirrel monkey, a python, and a camel.
It can be noted that Zabiyaka is not the first animal who has been predicting the winners of this year's FIFA world cup matches. Earlier, a cat from the Russian city of St Petersburg had accurately predicted Russia's victory over Saudi Arabia in the opening game of the tournament.
Artificial Intelligence joins the party
Recently, a team of researchers at the German Technische Universitat of Dortmund and the Technical University predicted the country that will win this year's world cup using Artificial Intelligence. After simulating the tournament over 1,00,000 times, they predicted that Spain is the country most likely to win this year's FIFA World Cup.
The researchers further revealed that Germany too has the chance of winning the tournament if they succeed in making their way to the semifinal.
Earlier, renowned game developers EA Games had predicted the winners of this year's world cup. It should be noted that EA Games had previously predicted the winners in 2010 and 2014, and their prediction is considered very seriously by football buffs.
If EA Games' prediction comes true, then France is expected to beat Germany in the finals at a margin of 5-4.