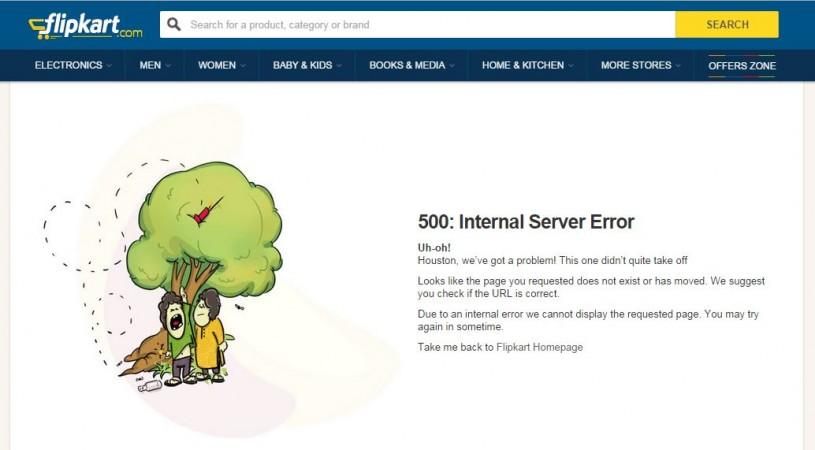 The much-awaited Flipkart Big Billion Day gala kicked-off on Monday, 6 October, at 8am, but as the day progressed, the event failed to live up to the expectations of the tech-savvy Indian consumers.
The e-commerce website had offered ridiculously low-priced deals for consumer electronics devices, books and sundries for as low as ₹1 and amazing discounts (close to 90%).
Expensive Apple iPad Mini was expected to go on sale for around ₹13,500, Moto G (Gen 2) with ₹4,000 off on exchange with older smartphones and other devices were also up for sale with similar offers.
However, when the eager consumers woke up early to check their desired items on Flipkart, many were in for disappointment as most of the items ran out of stock and for some devices, the price-cuts were revoked.
Unable to withstand the virtual stampede, the Flipkart site crashed leaving many frustrated. Some people were in the middle of the purchase process and could not get confirmation on their order due to the site crash.
Though Flipkart has fixed the Xiaomi device purchase pages and other select webpages, reports are still flying thick on the internet about discrepancies found on some webpages.
The Big Billion Day is Flipkart's largest discount sale since in its inception; this poor show will be taken as lesson for future sales and an opportunity to learn from big firms like Amazon, eBay and those in developed markets – Best Buy, Carphone Warehouse that attract millions of consumers on Black Friday and Cyber Monday.
Angry customers lashed out on the e-commerce company's 'failed' Big Billion Day deals on Twitter and some even came up with an idea to rechristen 'Flipkart' as 'FlopKart'.
#flipkart the worst exprnc ever. loged in 8.01 and sold out. Also, got the samsung pad but cldnt place d order. Crazily nonsence

— vidhan vyas (@12vidd) October 6, 2014
everything that i want is Out of stock !!! Thanks #flipkart for the 100% savings !!

— puneet vikram singh (@puneetvikram) October 6, 2014
Everything that i want is Out of stock / price raised (lumia 1020) ! Thanks #flipkart for helping me save 100% :P #fb

— Imraan (@princeimu) October 6, 2014
The way #flipkart is fooling billions of people, this day will surely be remembered as Big Billion Day.

— Sir Ravindra Jadeja (@SirJadeja) October 6, 2014
Disgusting sale on #FlipkartSale #flipkart. Placed order at 8.30am. great bargain. Paid in full. In 2 hrs order cancelled by FK. Why no idea

— Rituparna Chakrabort (@ritu205) October 6, 2014