After the protest against the usage of Hindi language on signboards in Bengaluru metro stations became a huge success, the Kannada Development Authority (KDA) has taken its agenda further by protesting against "imposition" of Hindi in Public Sector banks and also by the National Highways Authority of India.
From Arabic to Kannada and Hindi, language wars heat up in Karnataka
However, this time the KDA doesn't wants to cover up or blacken out the Hindi signage but rather prioritise Kannada.
The statutory body under the state government, has said that they have been communicating with the stakeholders officially, reported a leading English daily. The authority also asserted that the imposition of Hindi by the Centre had significantly increased since 2014 and the authority would fight against it.
More priority to Kannada
"In banks, for example, the recruitment rules were clear that people who have studied the regional language between Class I and Class X would get preference. Once the new government took over, they removed this clause," KDA chairperson SG Siddaramaiah was quoted by the Times of India.
"We have written to both the finance ministry and the ministry of human resource development in this regard," Siddaramaiah stated while adding that excluding Kannada from the Banking transaction was "unwelcome".
Meanwhile KDA representatives have already met some leading banks. The banks have asked for some time to pursue the matter.
"We will inspect the banks after a couple of weeks and see what their decision has been," said the KDA chairperson.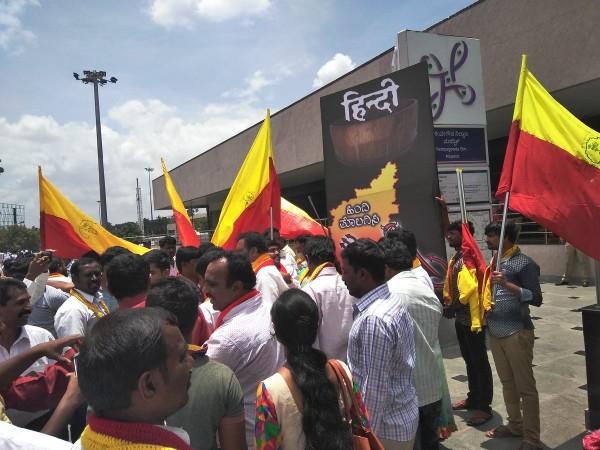 Anti-Hindi Twitter campaign intensifies
Keeping it in mind that the anti-Hindi Twitter campaign called #NammaMetroHindiBeda ('Our metro, we don't want Hindi'), which was launched on July 2, had received a lot of support from pro-Kannada activists; a new campaign called #Nammabankukannadabeku (Our Bank, we want Kannada) has now been started.
In fact, the campaign has already become a hit, with Twitter flooded with posts where PS Banks, like the State Bank of India, were pointed out to be using the Hindi language.
The campaign has also targeted private sector banks.
Banks and highways, however, are not the only ones being targeted by the KDA. It is also planning to direct the FM radio stations to play only Kannada songs through the day.