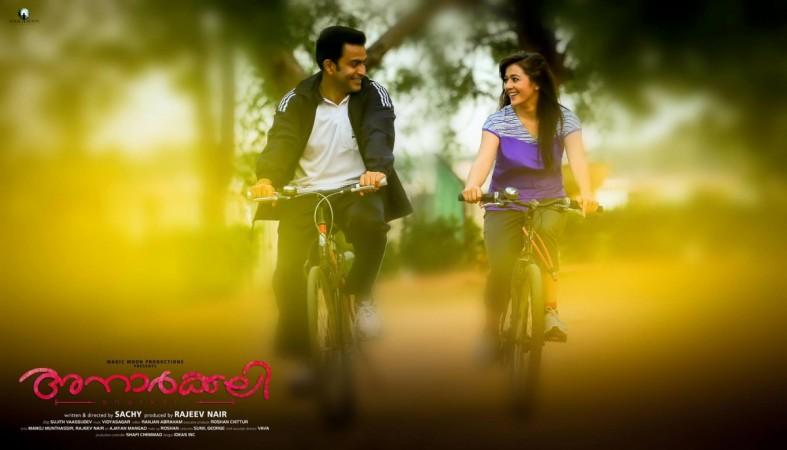 IBTimes India Rating: 3.5
Prithviraj Sukumaran's "Anarkali" delivers a simple message: Sincere love stays forever even if there isn't any communication between the individuals; fate will unite them no matter what, if the love is true.
Plot
Director Sachy's "Anarkali" narrates the story of young navy officers Shanthanu and Zacharia, played by Prithviraj and Biju Menon. Shanthanu falls in love with Nadira (Priyal Gor), daughter of Rear Admiral Jaffer Imam (Kabir Bedi), and certain incidents change their life.
Years later, Shanthanu arrives at Kavaratti as a diving instructor and Zacharia as a system engineer of the island's light house. "Anarkali" is all about love and friendship.
Coming to the performances, Prithviraj has done a good job as a smart young naval officer and later as a matured individual who trains divers in Kavaratti. However, Biju steals the show with his remarkable comic timing and witty counters. Kudos to Suresh Krishna for speaking in the island's native language, Jeseri.
Unlike other language actresses, Priyal Gor has a good chemistry with Prithviraj as her acting looks natural and impressive.
Kabir Bedi needs a special mention for the role of a strict navy officer, and he looks convincing. Miya as Sherin Mathew, medical superendant of the island, Sudev Nair as navy officer, Arun as Prithviraj's friend, and Samskruthy Shenoy as a native of the island have done their parts well.
Filmmakers Ranji Panicker, Madhupal, Shyamaprasad, Major Ravi and V K Prakash have also appeared in cameos in "Anarkali".
The film's climax is predictable, but thanks to Biju for handling the situation well by creating a laugh riot in theatres.
Vidyasagar's music has synced well with the intense love theme of the film, but Miya's lip-syncing in her intro song wasn't right at some places.
Sujith Vasudev's cinematography should be given full marks as he has captured the beauty of the island in all ways possible. The use of helicam to shoot an aerial view of Lakshadweep makes us fall in love with the place each time.
After the release of Kunchacko Boban and Biju Menon's "Ordinary", Gavi, a place in Pathanamthitta, became one of the most visited places in Kerala. Looks like Lakshadweep will be added to the bucket list of many as "Anarkali" shows us how beautiful the island is.
Verdict: "Anarkali" is definitely a visual treat and a decent debut by Sachy, but do not expect much. It is a soothing feel-good romantic entertainer with a pinch of comedy.