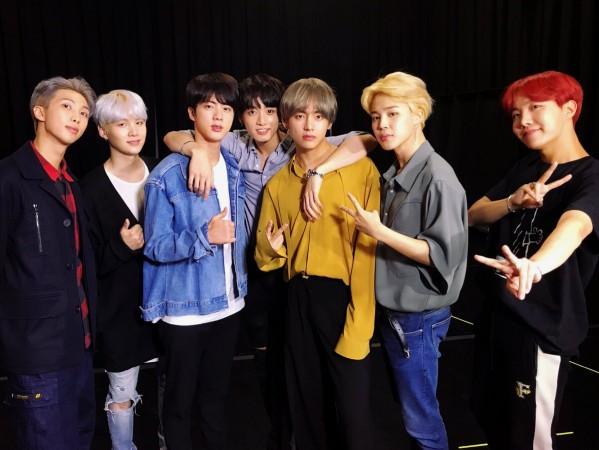 The members of popular K-Pop boy group — BTS, have recently opened up about their next album, which could be the second instalment of their latest project Love Yourself.
Team leader RM suggests, happiness as the concept for their next musical project. According to him, he always wanted to link this concept with their new theme.
"I was also fixated on the idea of happiness until early last year. However, during a recent trip to Japan, I read a newspaper column that said that humans can never attain the happiness that they desire. It said that once we reach one goal, we end up developing a yearning for something else," Soompi quoted him.
Also read Is EXO planning to disband next year?
Explaining further, the young Korean heartthrob said, "We also thought that if we won first place, we would be happy. But then there's always another goal to strive for."
"So rather than just happiness, I'd like to search for a conclusion to our current theme of Love Yourself. My dream is not to win first place on the Billboard chart, but instead to love myself properly. I want to take a step towards finding a way to love myself more," he added.
The team leader has also said that the group is planning to explore the subject of Love Yourself a lot, "including explorations of darkness and loneliness".
However, the fans of BTS worldwide will have to wait a while for their next album, as team member Suga has revealed that they are in the initial stages of their work.
"So far, we only have a broad idea [of our concept], so we're not at the stage where we can say for sure," he said, adding, "But the concept that we discussed amongst ourselves while we were on tour last year was happiness. What is happiness, exactly, and what do we need to do in order to become happy?"
"I believe that it's impossible to achieve happiness simply by trying to be happy, but one must make efforts to ahceive that happy space. It's something that we need to study and try to figure it out. Ever since I was little, I spent a lot of time thinking about what happiness really is and what you need to do to achieve it. I don't think anyone ever teaches you that. I think that if we start the conversation, a lot of people will be interested in discussing it," he explained.
The young Korean heartthrobs have also shared some tips to be a proud member of ARMY (the fan group of BTS). According to them, helping each other and learning Korean are some of the things that made them feel proud of their fan base.
Here is what Jin, Jungkook and Jimin had to say about their fans:
When we go abroad to meet our fans, a lot of them tell us that they learned Korean so that they could speak to us when we met. When I see fans studying Korean and trying to learn more about Korean culture, it makes me think that we were able to introduce Korea to more people, and I feel proud – Jin
We have a lot to be happy about, as well as things that are difficult for us. I uploaded a cover of Lee Hi's 'Breathe' on SNS for myself and for the fans. I sang it for myself, as well as a message to our fans, and one fan responded, 'I was going to end it all today but I've decided to try again.' I was so grateful that social media was so interactive, and I was thankful that my small deed was able to help someone regain strength – Jungkook
My cousin is a BTS fan. So her mom told her that she'll buy her one of our albums and connect me on the phone with her if she studied well. She's been 1st in her school ever since! – Jimin