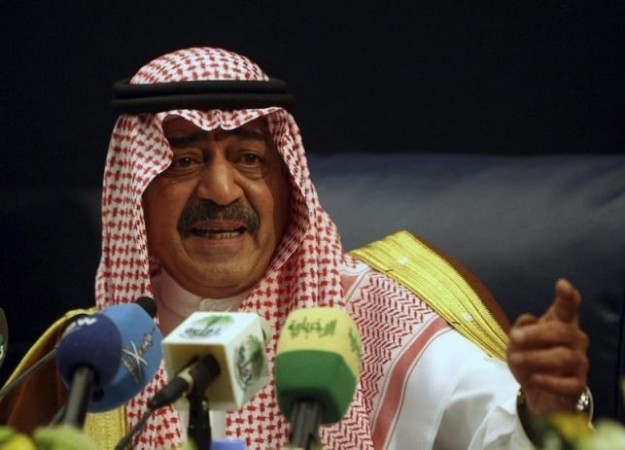 Saudi King Salman bin Abdulaziz's decision to relieve his younger half-brother Prince Muqrin of his duties as crown prince is being compared to a 'political earthquake' by an analyst and triggered speculation whether Muqrin's Yemeni lineage cost him the crown.
Early on Wednesday, Saudi Arabia announced that King Salman has appointed his nephew, Deputy Crown Prince Mohammed bin Nayef as his successor to the Saudi throne.
Nayef, who is also the Interior Minister, will replace Muqrin. The decree from the royal court claimed that the shuffle was done at Muqrin's request.
According to an Associated Press report, the appointment has put 55-year-old Nayef, who is widely known internationally as Saudi Arabia's counter-terrorism czar, as the most likely successor to the king.
A Reuters report noted that Muqrin, who was earlier the Saudi intelligence chief, was appointed deputy crown prince by the late king in 2013. After Salman's ascension to the throne, he became Salman's heir.
However, according to analysts, Muqrin's position in the royal family was undermined as his mother was a Yemeni, the report observed.
According to Al Jazeera, the move marks a major political shift in Saudi Arabia. "This is the first time that a grandson of the founder of the country [King Abdulaziz], rather than a son, is appointed crown prince," it said.
Khalil Jahshan, the executive director for the Arab Centre of Washington from Fairfax, Virginia, observed that the reshuffle was a "political earthquake of the greatest magnitude".
"The Saudi Arabia we knew a few hours ago is no longer [there]," Jahshan told Al Jazeera, adding, "These are serious changes that will have repercussions not only domestically but also internationally."
King Salman also announced that his son and Defence Minister Mohammed bin Salman will be the second-in-line to the throne, while veteran foreign minister Prince Saud al-Faisal has been replaced with the kingdom's Washington ambassador Adel al-Jubeir.
This would be the second time that King Salman has reshuffled his cabinet after taking over the throne on 23 January. The decision also comes at a turbulent time when Saudi Arabia is engaged is a cold war with its regional rival Iran, over the kingdom's military intervention in Yemen.