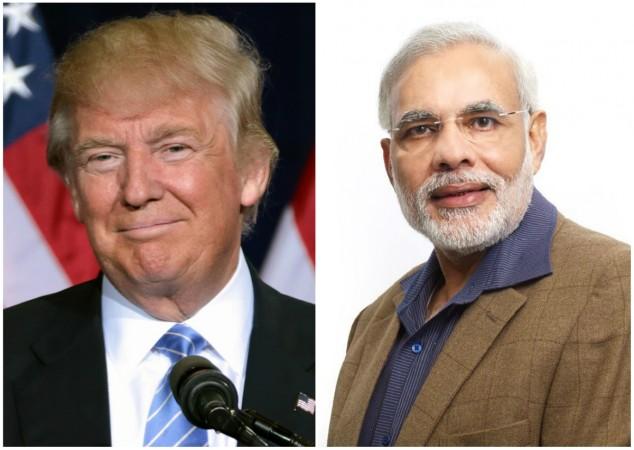 Prime Minister Narendra Modi will travel to the United States in a few days' time to meet US President Donald Trump. This will be Modi's fifth visit to that country though in terms of significance, it will be his first ever meeting with Trump who succeeded Barrack Obama in January this year. The world will be watching closely how things go between the two democracies in the era of Trump, an incumbent who had made the headlines mostly for negative reasons.
However, before anything else, Modi will have to deal with the great Trump Handshake, something leaders from across the world have already experienced. Japan's Prime Minister Shinzo Abe, a close friend of Modi, was the first to taste it and then it happened with several others till the time Trump's opponents understood the game and started reciprocating in his own style.
The leaders of Canada, France and Tajikistan gave it back
The likes of Canadian Prime Minister Justin Trudeau, French President Emmanuel Macron and Tajikistani President Emomali Rahmon paid Trump back in his own medicine while shaking hands, after fully preparing to tackle Trump's mind game of pulling and destabilising the opponent while shaking the hand to assert his 'infallible' persona.
Now, it is upto the Indian prime minister to tackle the signature "yank and pull" handshake of the American president – a man who has gradually evolved into a strong case for psychologists.
How should Modi really handle the moment? As a leader who has emerged almost as a superman in the world's largest democracy over the last few years, it will not be good to see Modi being pulled towards him by the American president as he generally does, conveying to the world as also as Modi's opponents at home that he crumbled under Trump's imposing handshake.
Given the man of preparation he is, Modi and his team have surely started working on this issue to ensure that no negative message went across the table – in international as well as domestic politics.
The Trump administration's strict handling of the H1B visa as well as call for 'Americans first' mantra in employment have already dented the chemistry that Modi and Obama succeeded in scripting and Modi will have to start from scratch to put things in order with the new administration in Washington. New Delhi would certainly not want a handshake controversy to divert the focus from the real issues.
Does Trump's bizarre handshakes really say anything about his personality?
However, when International Business Times, India edition, spoke to an expert in psychology, she was of the view that a handshake can't really be seen as one's personification. Speaking to IB Times, India, Dr Geeta Appachu, head, Swapreran, Bengaluru, said it can't be concluded that Trump's actual personality couldn't be judged solely on the basis of the nature of his handshake. She said it's the first gesture of social interaction and it is important that one has the required training to carry it out. "We can't really say that Trump's handshake gives a hint about his personality. It might not seem normal but it also doesn't give us any scope for interpreting it," she said.
Well, as we said, Trump is a man suitable for psychological studies – the terms he uses to speak and actions he indulges in – but in India, perception is the foremost determinant in politics and we will sincerely hope that PM Modi will put his best foot forward while dealing with the bizarre handshake by the most powerful man on earth. With so many challenges confronting its foreign policy, India can't afford to emerge second-best in the battle of the body language either.