Prime Minister Narendra Modi is in Karnataka again, this time to inaugurate Shivamogga airport in the poll-bound state. Amidst all the headline-worthy moments, the display of PM Modi and BS Yediyurappa's strong bond is a winning moment.
Speaking after inaugurating Shivamogga airport, Prime Minister Modi said that Yediyurappa dedicated his life to the poor and farmers. "His speech last week in the Karnataka Assembly is an inspiration to every Indian who is in public life. Yediyurappa has shown how to remain humble despite reaching heights," he said.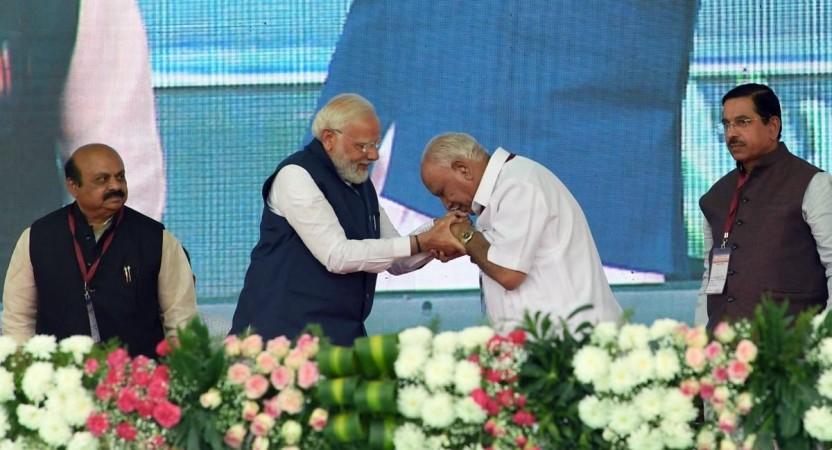 PM Modi also asked the crowd to flashlights on their mobiles. He then asked them to raise their hands and wave in respect and honor of Yediyurappa.
"Yediyurappa in his public life of 50 to 60 years has put Karnataka on the path of progress. He had sacrificed his entire youth to ideology," he said.
The viral moment
As PM Modi showered praises on the former Karnataka Chief Minister on the stage, he also displayed immense affection towards the senior BJP leader who retired from BJP electoral politics last week. In one video, PM Modi can be seen holding Yediyurappa's hand as the duo walked towards the inaugural event. This rare moment was captured on camera and went viral on social media.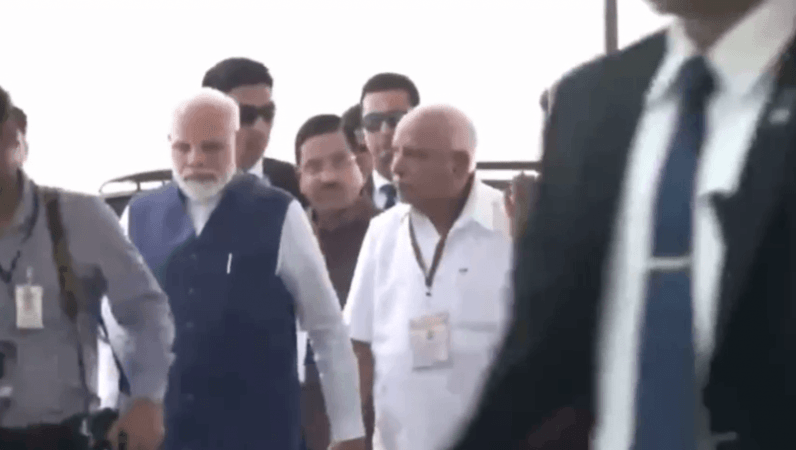 Even on stage, PM Modi felicitated BSY, which won thunderous applause from the audience. The gesture of PM Modi has assumed importance in the poll-bound Karnataka.
Yediyurappa represents the Lingayat community which plays an important role in elections. Opposition party leaders have been maintaining that Yediyurappa is being snubbed by the BJP high command and trying to break the Lingayat vote bank, which is firmly standing with BJP. By applauding Yediyurappa and showering him with praises, the Prime Minister has sent out a signal to the Lingayat community, the sources said.
BSY is in awe
Speaking on the occasion, Yediyurappa stated that Prime Minister Modi - a leader appreciated throughout the world - inaugurating Shivamogga airport is a matter of great joy for him. "PM Modiji had promised me that he would inaugurate Shivamogga airport on my birthday," he recalled.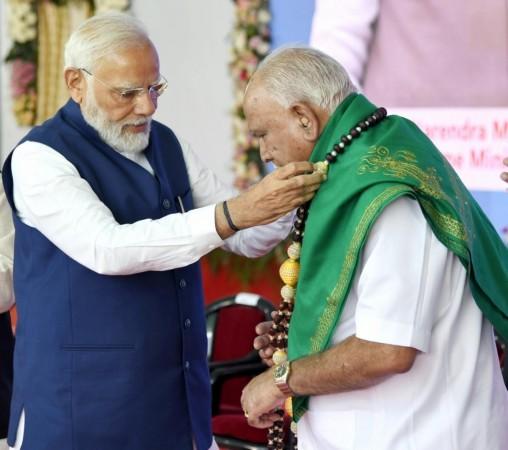 "In my 55 years of political life, I was in power for seven years during which, I have strived to ensure growth of all, across the state. This I have done with the blessings of PM Modi," Yediyurappa stated.
"Late PM Atal Bihari Vajpayee attended my 60th birthday in Bengaluru. He said, usually he doesn't attend such programmes but because he likes me, he is attending it. I still cherish fond memories. Now, my 80th birthday is also made memorable," he stated.
(Includes agency inputs)