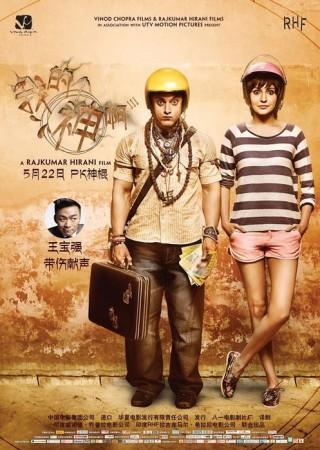 Aamir Khan has created another record with "PK" (Peekay) in China. The film directed by Rajkumar Hirani has crossed ₹100 crore mark at the Chinese box office.
Trade analyst Taran Adarsh confirmed the report and stated that "PK" has created history in China with its box-office collection. 'PK" became the first film to earn more than ₹100 crore in China.
"#PK creates HISTORY in China. Crosses ₹ 100 cr on Sat [6 June; 16th day]. Total: $ 15.88 million [₹ 101.81 cr]. ALL TIME BLOCKBUSTER," box office analyst Adarsh tweeted.
At a time when Bollywood films are finding it difficult to earn ₹100 crore in India, "PK" has achieved that feat in China and within 16 days.
The film also starring Anushka Sharma and Sushant Singh Rajput has not only recorded the highest box-office collection in India, but also in China.
Talking about the success of the film, director Hirani told IANS that "PK" box-office success proves that content is the king.
"I had never imagined that 'PK' would be received so lovingly in China. A rating of 8.8, a 4,600-screen release and business as huge as of North America. It furthers my belief that content is king," he added.
An English daily of China also praised the film, reporting that filmmakers should learn from Hirani's film.
"After emerging as the highest grossing Indian movie ever with a box office of $101 million globally, it is standing high in the favour of the Chinese public," the Global Times, an English-language Chinese newspaper, said in an opinion piece titled "Comedy films can learn from New Delhi".
"Back in 2009, '3 Idiots', which featured the same director and leading actor as in 'PK', became a massive success across China and caused a stir among Chinese audiences for its ironic look at India's rigid and dreary education system. Now 'PK' has created history by ranking the 70th biggest box office earner in the world last year, apparently taking the shine off the somewhat chaotic comedy market of China," the article read.