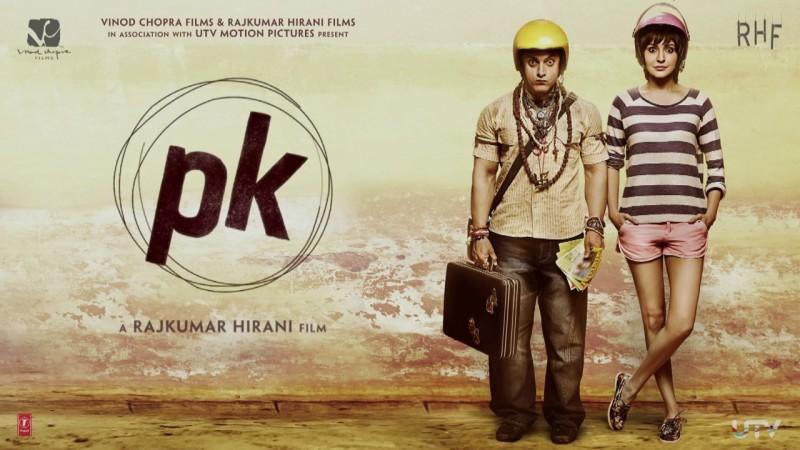 Rajkumar Hirani's "PK" (Peekay), which is the last highly-awaited Bollywood movie of 2014, has released in theatres in the international markets on 18 December and received positive reviews from the foreign viewers.
"PK" is a comedy-drama film, which has been jointly produced by Rajkumar Hirani, Vidhu Vinod Chopra and Siddharth Roy Kapur. Besides direction and production, Hirani has also penned script for the film in collaboration with Abhijat Joshi. The movie has an interesting story and the makers have kept it under wraps, which has created lot of curiosity among the film goers across the globe.
The story of "PK" revolves around a stranger in the city, who asks questions that no one has asked before. Known only by his initials, PK's innocent questions and childlike curiosity will take him on a journey of love, laughter and letting-go, according to IMDB.
The film is a satire on "God and godmen". Bollywood superstar Aamir Khan and Anushka Sharma, who have teamed up for the first time, are seen in never-played-before roles and the amazing chemistry between the two and their impeccable comedy timing are the main attractions of this much-hyped movie.
Sushant Singh Rajput, Boman Irani, Sanjay Dutt, Saurabh Shukla and Ram Sethi have essayed important roles in "PK" and their performances are also among the big assets of the film. Ajay Atul, Shantanu Moitra and Ankit Tiwari scored music for the songs and background score, while CK Muraleedharan handled the cinematography for the film.
The movie buffs, who watched "PK", have fallen in love with the movie. The interesting story, lead actors' sterling performances, melodious music, high entertainment quotient, amazing camera work, beautiful costumes, makeup, art direction and locations are the big attractions of the film, according to the audience.
Here is the live update of "PK" movie review by viewers:
Jasrick Johal
#PK is a film that does not only question what religion is but questions stupid norms society creates.A little similar to #OMG in story. #PK on the onset seemed very hilarious and was going to be pathbreaking,but 2nd half got very predictable,and ending was a letdown. Acting wise @aamir_khan is a revelation one of India's best actors gives 1 of his career bests.@AnushkaSharma creates an impact,good job. #RajuHirani is a genius he is India's best director, but IMO #PK is his weakest fare,but thats saying alot because PK is a great film. Overall #PK is a film that leaves mixed feelings, its a great film, but 1 excepted more from the man who gave munna bhai and 3 idoits. But #PK is still thought provoking watch for its message,it just left an OMG hangover for me.3.75/5*.25 more for @duttsanjay amazing spcl ap
Sushanth Reddy
What a first half. This is brilliant. Just brilliant. Hirani touches our heart and mind at the same time. Yet again. Raju Hirani, you short little genius !!.. #PK is very funny, emotional, heartbreaking and thought-provoking like any other Hirani film !! After bring the fun out very delicate and serious situations happening around us.. Hirani also makes you feel for the characters !! Terrific performances ... Especially Aamir. There is a surprise cameo at the end that ll make u leave the theater with a HUGE smile. Though Movie looses its touch some where in between the 2nd half... it comes back on to track quite immediately !!.. And another point with effects the movie is #OMG !!... But #OMG is more like a debate. This more humane and emotional.
Faridoon Shahryar
Aamir Khan has delivered his career best performance in #PK he'll make u laugh, cry, amuse, provoke.. all at the same time!! The efforts taken by Raju Hirani to raise fundamental questions bout human belief system requires loads of courage n extensive research #PK. The uniqueness of Raju Hirani lies in making a pertinent point on the social fabric of the country n yes ensure relentless entertainment. Anushka Sharma springs a refreshing surprise.She shines brilliantly as an actress n looks totally diff 4m wat she's ever lookd b4. Sushant Singh Rajput is extremely endearing in a cameo while Sanjay Dutt is all heart...The fat barber will emerge as a Rockstar soon. If you're looking for a rare experience of emotion packed message n quality entertainment then #PK won't disappoint you.Enjoy!
Elliot Alf
#PK is so far the best rajkumar hirani film cuz half the people are just laughing and not getting the real metaphor. #PK a normal man's journey to find inner peace and meaning and how religion sells the fake hope, that's what the movie is about
Bhawana Somaaya
First time as a #critic I feel some films are better experienced as a #discussion rather than as a critical analysis and #PK is among them. Writer director #RajuHirani like every time presents a new thought. His strength as filmmaker is his honesty, his intention n his simplicity. #AamirKhan has done many challenging roles in his career but #Pk is beyond imagination. His performance has to be experienced!
Arshad
#PK Interval...Comedy with sense, till now very strong storyline. Firsthalf hilariously emotion. #PK @aamir_khan will not blink n don't let u blink. Loved thoroughly,everyone must watch... next waiting for #RK don't miss the ending.
Sayantan Das
#PK.. It's just not just an movie indeed.. It's an journey which every person must have.. Hats off @aamir_khan & the whole team of PK.
Raj Gupta
Watched #PK .. 'Excellent Movie' ..awesome acting by #amirkhan ..gr8 mssge delivered through Movie...
Pratyush Sinha
8.5/10 for #PK. To be honest, OMG appealed to me much more. Good watch though. Highly recommended!
Animesh Dinda
Watched #PK. Such an excellent movie. There is a strong message for those who lots of believe in religion. Grt job by @aamir_khan
Parijat Joshi
Watched #pk. Above your good bollywood film. A little below raju hirani standard. Go watch it for its simplicity
Kaushik LM
#PK first half - interesting, humorous and hard-hitting. A bold commentary on Gods, rituals, religious practices in India. Traces of #OMG. #PK first half - #AamirKhan is brilliant as the weird being from another planet. Have never seen him act so well. Original and inspired too
NJ Nunki
After Ages saw a completely paisa vasool movie!! #PK ! Brilliance. Aamir Khan Rocks. What are u still doing here?
KVP Pradeep
Resemblances of #OMG makes #PK 1st half just an enjoyable one. Else it was brilliant !! #PK : Good watch overall even though the 2nd half slows a bit. Only disappointment is a crazy combo repeating an already proven subject !
Giridhar
#PK a must watch movie. Take a bow Raj Hirani. Excellent performances by everyone and aamir stole the show :)
Mahesh
#pk ... 1st half done ... tears are rolling out sometimes with laughter and sometimes with emotion ... #PK is the best film ever made and best performance ever by @aamir_khan "
Aniruddha Guha
In Rajkumar Hirani, I trust. #PK #NowWatching Half-time at #PK screening. Silly, far-fetched, occasionally hilarious, but never dull (the songs, though, are a bhaste of time). Aall Izz Well with #PK till interval and then it's a bumpy ride. Not entirely a bhaste of time though. Hirani's weakest is better than most. Must commend Aamir Khan for being the rare superstar willing to mock religion and faith, at the risk of pissing off some fans. #PK
Oddee
So far couple of really good scenes ('Acchaa episode', 'Gandhi photo on currency'..) but overall neither boring nor interesting. Interval. 3.5/5. Good stuff. But satires on mass hysteria and the same questions were asked too many times. #PK
Ravi Sutharsan
Watched #PK! Its going to take a hell of a lot of media reels and everything to talk and talk and talk about this masterpiece! #PK You start up laughing, and the laughter turns into crying. You experience the whole gamut of emotions, and end up saluting the makers. Oh My God scratches the surface. #PK scratches it up to the point where it drives in a hole. Anushka Sharma is seriously excellent in the film. Her best ever. Raju's heroines have meaty roles, but I think Anushka takes the cake. Two negatives - one the start was not very attractive (the first 15-20 mins). Two, a few transitions into the songs looked forced.
Ashish Saksena
@RajkumarHirani-exceptional director. @aamir_khan-immaculate sense of script. Anushka Sharma-terrific. And #PK is outstanding. Monster hit.
Karan Johar
PK yet again proves that Rajkumar Hirani is the best director of our country...it's undoubtedly Aamir Khans best performance to date....#PK PK is hilarious and emotional in equal measure...it's a game changing film....Kudos to the team!!! @AnushkaSharma you were superb!!!
Jim Bessman
Back from #PK screening. Wonderful. #AamirKhan great, #AnushkaSharma adorable. Still singing "Love is a Waste of Time."
Swapneel Badve
#pk outstanding movie till interval Best bollywood has ever witnessed
Rohit Amble
Somebody here is #Alien....#Pk . Interval..#Pk is on way to be Masterpiece phenomena. #Pk is good but not par with ##3Idiots...in 2nd half means in last 30mins , film get crashed by not matching Phenomenal 1st half .
Mahiie Gill
@PKTheFilm is so well-scripted, skilfully crafted and a thought-provoking entertainer! A sparkling example of qualitative cinema! [1/3] #PK Everything about @PKTheFilm works! It's rare to see a film dat bounces between humour & sentiment so seamlessly. Luv @aamir_khan ♡ [2/3] #PK @AnushkaSharma's perfection and @itsssr has got coolness in his blood! @RajkumarHirani I honestly feel dat #PK is my birthday gift! :D [3/3]
Darsheeka Singh
What n amazing movie! #PK must watch! Tho I needn't advocate it :P @aamir_khan is enuf! Thank u sir for keeping special preview 4 police!
Jaydeep Bharat
#PK movie review ****/5 Its an anothr masterpiece by @RajkumarHirani along wid @aamir_khan,it will take u on breathlessly breathtaking level. #Pk will make u laugh, will make u warm, will make u cry,most importantly it will change our society's vision with its massage, Huge. ****/5
Ashoke Pandit
Kudos to Raju Hirani-Aamir Khan duo for a brilliant film PK.U once again proved that you are one of the finest Actor Director Jodi.#PK Where the world is spreading hatred because of religion, Raju Hirani and @aamir_khan's #PK spreads love through it. Revelation!
Virender Sekhon
Undoubtedly BEST movie of 2014, full of entertainment, imoshnal. Outstanding performances by @aamir_khan @AnushkaSharma Go watch it NOW #PK
Raghu
#PK mindblowing story & ScreenPlay. @RajkumarHirani again proved why he's an out of the box Director. what i can Say is its a Master Piece. " Jo darr Gaya wo mandir Gaya " Super One-Liner from @RajkumarHirani #PK & both omg & pk r entirely different.don't believe in such rumours.