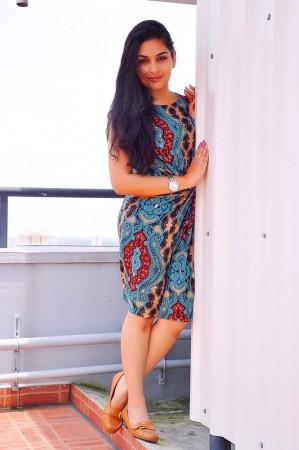 Prayaga Martin, who was much noticed for her performance in Mysskin's Tamil movie "Pisaasu", is now set to make her Malayalam debut.
The actress will make her first Malayalam appearance opposite Fahahd Faasil in "Cartoon". The upcoming movie will be directed by debutant Saheed Arafath and is touted as road movie.
Reports suggest the movie will narrate the love story of two egoistically-complex persons who try to force their interests and views on each other. Fahadh will play the role of Sachidanandan, an animator and Prayaga will play the character of a college girl who falls in love with him.
The movie apparently will talk about contemporary issues like moral policing. The story will take its own course when some unexpected twist and turns haunt the couple.
"I feel lucky to make my Malayalam debut opposite him. I am a person who maintains a positive attitude towards life and am really happy at the way my career is going. Pisaasu is also getting positive responses from all quarters. I believe in taking up only those projects which I am really keen on doing," said Prayaga to Times of India.
The movie has been in discussion for over a year and the makers of the movie had earlier said that they are in search of a lead actress. Some reports had also suggested that the movie will have two heroines.
The story of the movie is by Ratheesh Ravi and the screenplay is co-written by Laser Shine along with Ratheesh.
"It is a road movie-cum-thriller. I don't have the liberty to divulge the other details. All I can say now is that the movie has all the elements of a commercial entertainer and discusses a serious, contemporary issue in society," added Ratheesh.