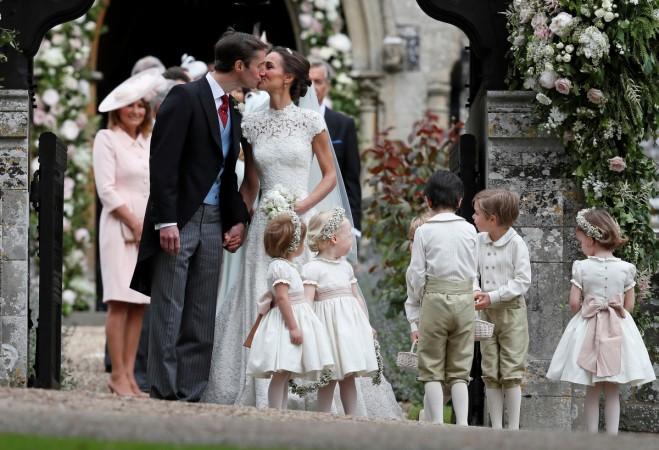 Pippa Middleton's wedding at St Mark's Church was not less than a royal wedding that saw several royal family members and celebrities in attendance. But one of the much-awaited guests Prince Harry's girlfriend Meghan Markle was missing in the scene.
Harry attended the wedding ceremony on Saturday morning at St Mark's Church sans Meghan, but do not get disappointed, as the Suits actress attended the reception party of Pippa and James Matthews in the evening at the Middleton family home in Bucklebury.
Also Read: Pippa Middleton is married: Kate Middleton's sister says I Do to James Matthews
As reported earlier, Meghan did not witness Pippa saying "I do" to Matthews, but she attended the party after the nuptials as Harry's date. After the wedding ceremony, Harry drove his girlfriend to the Middleton's estate just in time for the party. The couple maintained a low-profile at the wedding and Meghan even ducked the camera while arriving for the party.
Harry and Meghan mutually decided to stay away from the limelight, as it was a big day for Pippa. "Harry knew this was all about Pippa's big day and he and Meghan jointly decided they didn't want to upstage her. Harry went all the way back to London to get Meghan and bring her to the party," a source told The Sun.
"He was determined not to upstage Pippa but also really wanted them to enjoy the wedding together. He didn't want Meghan to arrive alone, without him alongside her, at the reception."
For the wedding ceremony, Harry arrived with brother Prince William, while Kate Middleton was taking care of the kids.
Pippa got married to Matthews on Saturday at 11.30 am wearing a Giles Deacon bridal gown. Countess Philippa Hoyos, Lily French, Avia Horner and Princess Charlotte of Cambridge were the bridesmaid, while Casimir Tatos, Edward Sebire, William Ward and Prince George were the pageboys.
Check out all the photos from the wedding below: