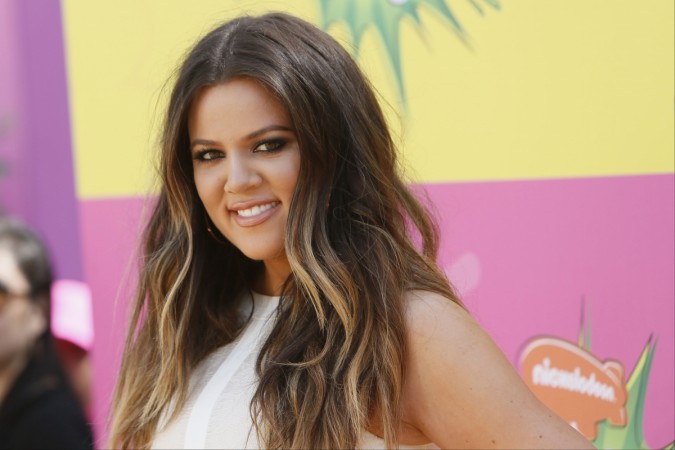 Khloe Alexandra Kardashian, the television personality who is popularly known for her appearance in reality series Keeping Up with the Kardashians, has flaunted her ample cleavage while posing for camera wearing a denim outfit.
Also Read: Kendall Jenner strips down and shows more skin in sizzling snapshot
The photo of the blonde beauty, which was posted on Instagram, was taken to introduce a new product of her denim brand Good American. In the image, she can be seen showing off her shoulders and flashing a glimpse of her boobs by putting the denim jacket off shoulder, which she paired with a matching short skirt.
The social media post of Tristan Thompson's girlfriend was accompanied with the words: "JUST DROPPED on goodamerican.com— our Oversized Denim Jacket that you can wear a million different ways, mini skirts plus new Good Legs and Good Legs Crop that flatter every curve!!"
Shortly, the 32-year-old statuesque beauty shared a set of photos and a video on the photo sharing platform wishing her brother Rob Kardashian on his birthday. "Happy birthday @robkardashian!! I am incredibly blessed to have a brother like you! You truly are one of the funniest people I've ever met!" she wrote.
Lamar Odom's former wife is reportedly planning to take her relationship with Canadian professional basketball player Thompson to the next level. "Khloe is dying to have kids. It's something she's wanted for years, even with Lamar. Tristan just had a baby and Khloe sees how wonderful of a father he is," an industry insider told Entertainment Tonight.
The source close to the reality star even teased about her engagement with the 26-year-old sportsman and stated that they could make an official announcement soon. "Khloe doesn't need a title to make their relationship real and she doesn't want to mess up how perfect it is now. She's already done the marriage thing," the insider added.