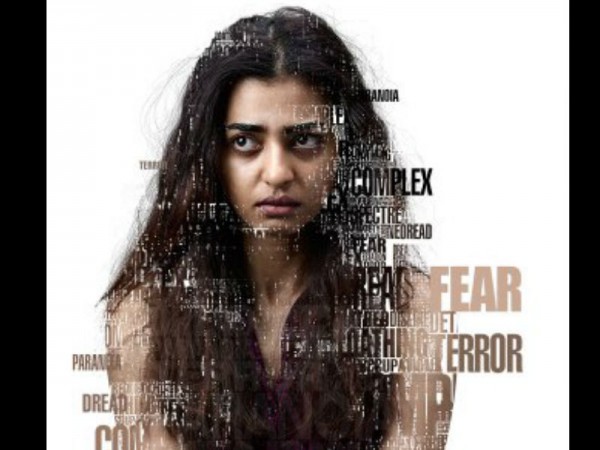 Director Pawan Kripalani's Bollywood movie "Phobia," starring actress Radhika Apte, has received positive reviews from the audience around the world.
Check: Phobia Celebs' Review | Phobia Trailer Launch Photos | Radhika Apte Images
"Phobia" is a psychological thriller film, which revolves around an artist Mehak (Radhika Apte) who develops agoraphobia, the fear of open spaces, after she is sexually assaulted. Viki Rajani has written the script for the film and also produced it under the banners of Eros International and Next Gen Films.
The audience say "Phobia" has a wonderful script, which is full of spooky, spine-chilling and nerve-racking moments in it. The director has made sure a gripping and engaging narration for the movie. Viki Rajani's brilliant script is the main highlight of this female-centric movie.
Radhika Apte's role has good scope for acting and the actress has delivered brilliant performance, which is another highlight of the movie "Phobia" after its scripting. Satyadeep Mishra, Ankur Vikal, Yashaswani Dayama and Nivedita Bhattacharya have done justice to their roles and their performances are good assets of the film.
"Phobia" has got superb production elements and amazing picturisation, background score and special effect works are the big attractions on the technical front. We bring you some film goers' verdict on Twitter. Here is the live update of the movie review by audience:
Taran Adarsh ‏@taran_adarsh
Expect the unexpected... #Phobia is a spine-chilling, nerve-racking, well-crafted psychological thriller. Radhika Apte is simply outstanding
Faridoon Shahryar ‏@iFaridoon
Radhika Apte is a gifted actress but what she has managed to do in #Phobia catapults her to sheer magnificence ..Simply Wow!!
Kunal M Shah ‏@iamkunalmshah
Engaging thriller #Phobia Watch it for the brilliance of @radhika_apte & @satyadeepmisra @vikirajani & @krishikalulla you have a winner! And #Phobia is a film which is a spine chilling experience. A thriller never seen before. It will definitely make you scream...
Tanveer ‏@tansworld
Most parts spooky, all parts spectacular. The magic of @radhika_apte sparkles and shimmies in #Phobia She gets more amazing with each film
SuperGullu ‏@gulshandevaiah
It sure is scary but it's a good,well made film,with @radhika_apte fronting the film like a boss #Phobia her best work so far.
Honey Trehan ‏@HoneyTrehan
PHOBIA..absolute treat to watch Radhikasimply brilliant and what consistency...Satyadeep is outstanding too.great job team phobia.
Muhammed Deshmukh ‏@drdang
#Phobia is fantastic you guys. can't think of any other bollywood film that was made just for horror buffs like me. it's the real deal. pawan kirpalani subverts tropes at every turn. and radhika apte is completely game. great supporting cast too. watch it in theatres! #Phobia
Rishi Vohra ‏@FishyRishi
#Phobia-Great psychological thriller! And a perfect date film-that special/potential someone will clutch onto u throughout! @radhika_apte
Parag Chhapekar ‏@paragchhapekar
#Phobia reason 1) engageing 2)well made 3)if u have content no need of big stars 4) @radhika_apte powerhouse performance
Sriram Karanam ‏@ramsjoyy
This movie scared hell out of me. FANTASTIC!! One of the best thrillers of Indian cinema #Phobia @radhika_apte is simply outstanding
Abby Hamdulay ‏@hamdulay_abby
@radhika_apte u were full of energy in this movie #Phobia we really enjoy it! That's alot for giving such a horror movie
Ayush Agarwal ‏@ayush_agarwal93
#PHOBIA is effin brilliant. @radhika_apte for National Award please. WATCH NOW!
RJ Harsh ‏@rjharsh19
Awesome story,screenplay,music,acting,moral everything! #Horror movies aava pan bani shake! @radhika_apte #Phobia