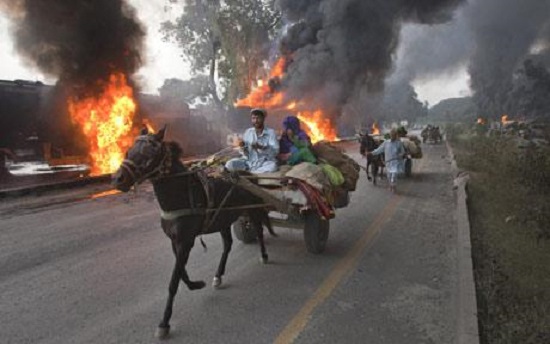 Following the brutal Taliban attack on Army Public School on Tuesday that left over 100 children dead, the Pakistani army, in what is being seen as a retaliatory move, has killed 57 militants in airstrikes in the Khyber tribal region where the suicide bombers were reportedly trained.
Reports claim that the Pakistani army launched 20 airstrikes on Wednesday on several Taliban hideouts located in Tirah valley area of Khyber tribal region, which is adjacent to Peshawar.
An army spokesman said that the strikes were launched following reports that the militants who killed 148 people, including 132 school children at the Army Public School were trained in the Bara area of Khyber, PTI reported.
The army personnel also stated that following the Peshawar attack, the military was reviewing its strategy for its ongoing operation Khyber-1 in the district.
Earlier on Wednesday, Pakistan had pledged to its citizens that the country will announce a "national plan" to tackle terrorism within a week with Prime Minister Nawaz Sharif saying "this entire region" should be cleaned of terrorism.
The massacre at the Peshawar school was carried out by the Tehreek-e-Taliban Pakistan' (TTP) in response to an offensive launched against it by government troops in mid-June. The group claimed that it was avenging the lives of its men and family, who were targeted by the Pakistani army.
The Islamist rebel group TTP is headed by Fazlullah Mullah, who is also known as the 'Radio' Mullah, a nickname he acquired during his initial days, when he used to reach out to the masses via pirate radio channels.
Mullah, is also said to be the man behind the shooting of Nobel Peace laureate Malala Yousafzai. In her autobiography, I Am Malala, she has an entire chapter devoted to him titled, "Radio Mullah."