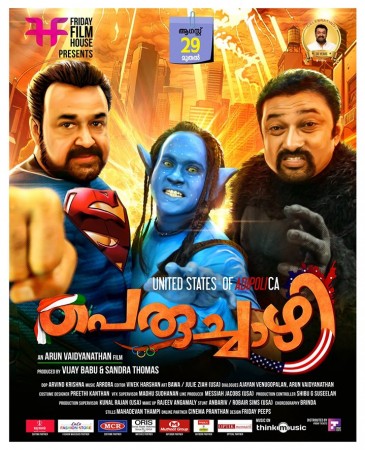 IBTimes India Rating: 3.5
"Peruchazhi" starring Mohanlal is a clean entertainer that will not disappoint you. The film has a few moments, which will take you back to good old days of Mohanlal film. If you are a Mohanlal fan, the film will be a feast for you and Arun Vaidyanathan has nailed a good political satire for this festive season.
The story of "Peruchazhi" revolves around Jagananathan (Mohanlal) who is a genius and a cunning political consultant. Solution for any problems related to political issues is a cake walk for this mastermind. He is tricked by his so-called friend yet a political rival and PWD Minister, Francis Kunjappan (Mukhesh) for a project in US as he is well aware that Jaganathan is a threat for his ministerial position.
Though Jaganathan, well aware of Francis's intentions, takes up the project of raising the political graph of a politician in US. Rest of the film revolves around how Jaganathan uses his Indian political gimmicks in US and how he faces some unexpected problems in this mission.
A special credit has to be given to director Arun Vaidhyanathan to bring out a very good entertainer with all elements of 'Lalism'. What makes "Peruchazhi" different from other mass entertainers is equal importance given to all the characters rather than just focusing the film on one character. Dialogue writer, Ajayan Venugoplan requires a special mention for bringing out dialogues that are hilarious and equally sensible. Some sequences bring out good old memories of Mohanlal films and beautiful songs.
The fun part of the film starts from the mention of the title itself, which is supported by famous Mohanlal comedy dialogues in the background. The first one hour of the film is a laughter riot. Little lag is felt in the middle, but catches up in the last half an hour.
In terms of performances, Aju Varghese and Baburaj combination makes the film a special one with slapstick comedies. Mukhesh again proves that he is an actor worth investing. Vijay Babu has also done a commendable job. Though Ramesh Pisharody's screen presence in the film is less, he makes those little moments most memorable. Sean James Sutton also gives some funny moments with his antics and performance as the rising politician John Kory. Shankar Ramakrishnan and Ragini Nandwani has also done their parts decently.
Another important aspect of the film is background score by Arrora. The talent has brought out the best that is required for the script. The colour tones used in the film is fresh for an entertainer. The songs and dance sequences could have been improved. The lead actress Ragini Nadhwani has also done her part well.
"Peruchazhi" does not have typical punch dialogues, over-the-top fight sequences or lots of twist and turns but the film is one of the best mass entertainers in the recent times. The film has some genuine comedies. "Peruchazhi" is not for those who are looking for a logical film with cinematic excellence but is a film for you to relax and enjoy.
Sandra Thomas and Vijay Babu team can now celebrate as they have brought out something they have promised - a good satirical comedy entertainer.