After Kodi, RS Durai Senthilkumar has teamed up again with Dhanush for Pattas. Like their previous flick, this film too is a commercial potboiler. The latest flick has Sneha and Mehreen Pirzada playing the female leads.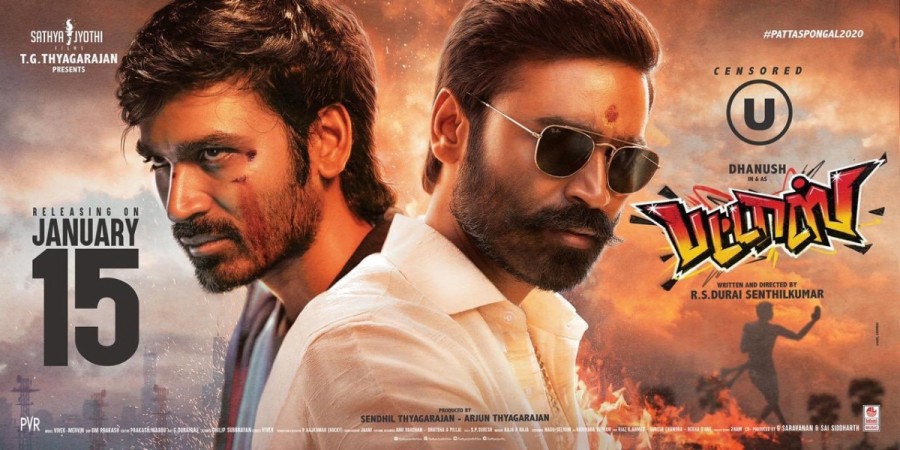 Naveen Chandra, Nassar, Munishkanth, Sathish and others in the supporting roles. Vivek-Mervin has scored the music. Chill Bro, Jigidi Killadi, Morattu Thamizhan Da and Mavane songs from the movie have impressed the audience. The film has Om Prakash's cinematography and Prakash Mabbu's editing.
Story:
The story is based on ancient martial art Adi Murai, originated in Kanyakumari in Tamil Nadu. It is regarded as the oldest martial art in Tamil Nadu which was present even before Kalari and practised by Cholas. Dhanush is said to be playing dual roles of a father and son in the film. The film is about preserving our ancient art.
Hype:
The movie has generated a lot of positive buzz with its teaser and trailer. The success of the audio has come as a bonus for Durai Senthilkumar-directorial film. Dhanush and Senthil's earlier movie had impressed his fans. So, there is a good amount of expectations riding on Pattas.
Will the movie live up to the expectations? Check it out in the viewers' words below:
Rajasekar: #Pattas first half - Thoroughly enjoyed
@durairsk's screenplay. A formulaic mass entertainer engages us from the word go. The age old son-mom angle works like a charm. @dhanushkraja has killed it bro. Be it subtle Sivasami in #Asuran or hyper energetic Pattas, this man rocks #Pattas first half-
@actress_Sneha convincingly pulled off the #AdiMurai action scenes, shows her effort.
@iamviveksiva - @MervinJSolomon 's songs and background score, perfect for a mass entertainer. #Chillbro,
@dhanushkraja seriously killed it with his racy moves!
Faizal Babu: #Pattas - Old age revenge drama with added special ingredient - #Adimurai Pioneer of martial arts. @dhanushkraja as usual Pinni pedal Background score is the key Predictable Screenplay is a low point, Could have been more interesting. A good festival watch
@Mehreenpirzada
Pagalavan: I feel kind of disappointed after seeing #Pattas, maybe my expectations were too high #PattasFDFS
I was expecting a mix of Ethir Neechal and Kodi, but instead got a predictable story saved by Dhanush's killer performance as elder and cool youthful look as "Pattas" and Sneha
Ashameera Aiyappan: Seeing #Dhanush have fun is good but not enough to save #Pattas, a generic film that feels like a mix of Maan Karate & 7am Arivu. I'm glad Sneha got a meaty role but I wish the film had given a good peek of Adimurai, so that it doesn't sound like mumbo jumbo to the uninitiated.
V2Cinemas: #Pattas - 3/5
A usual mass commerical entertainer , Engaging in parts. Especially the flash back portions works out well. The BGM is the major plus for the movie @MervinJSolomon @iamviveksiva.
In Martial Arts technique & #ChillBro steps @dhanushkraja rocked.
NAGARJUN J: #Pattas - A Pakka festival family Entertainment! After Mega Blockbuster #Viswasam
@SathyaJyothi_ focused this kind of family Entertainment movies..
#HappyPongal2020
S Abishek Raaja: It's never easy to do martial convincingly on screen.
How @dhanushkraja manages to maintain a standard while performing is a topic to be discussed.
@actress_Sneha and #D make a lovely pair.
@durairsk's bookish knowledge is once again evident
#Pattas
In terms of story value, #Pattas stands apart.
A very strong flashback makes it a genuine attempt.
Staging of the story could have had the same sincerity but
@actress_Sneha and @dhanushkraja makes it special.
Watch it for what it speaks about.
Md Hussain S : #Pattas It's a Festival Joy ride, it has a all elements emotions, fun, love etc.,
@dhanushkraja has given one more Hit, he did always a fab job with his timing
@actress_Sneha a versatile actress we have❤️ @Mehreenpirzada
a Barbie doll she is lovely #PattasFDFS moving to climax
Prashanth Rangaswamy: #Pattas Interval -
@durairsk knows what the right proportion for a commercial movie is. Perfect mix of commercial and class. Joly and bright @dhanushkraja - Meaty role for @actress_Sneha - she has donned it. So far a perfect pongal feast.
A2 Studio: #Pattas: Pakka Mass Movie for this Pongal Festival!
@dhanushkraja has rocked on both the roles.. vera level form he is in!
@Mehreenpirzada is soo good in on screen pair with #D #VM Music is Great!
@durairsk packed a mass commercial family entertainment for this pongal! Go for it.
sridevi sreedhar: #PattasFromToday #PattasPongal #Pattas The second half is the highlight! @dhanushkraja as #DraviyaPerumal owns the film @actress_Sneha is Perfect Pongal family outing!
#Pattas Interval report: Pucca mass masala packaging with comedy, peppy songs and build-up for an awesome flashback ! @actress_Sneha has a very crucial role .
@dhanushkraja carries the film with his inimitable style mainly to please his fans ..Now waiting for the main drama
arjunanofficial: #PATTAS : 4/5
One Word Review:BLOCKBUSTER
#Dhanush must be given credit to selecting storylines which are untouched by other leading actors so far.#Pattas speaking about an ancient martial arts form which is indeed a require message.Kudos D! U r real genius @dhanushkraja
Sidharth Vishwanath: #Pattas was a thoroughly enjoyable watch with
@dhanushkraja breathing fire as always. Too happy and elated for @iamviveksiva
@MervinJSolomon for the massive reception to their songs and score. Killed it boys. Great work! This #Pattas shall burst loudly this Pongal.