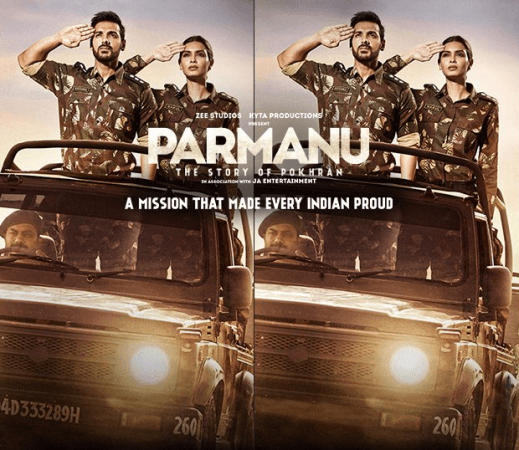 John Abraham starrer Parmanu - The Story of Pokhran will release in India on Friday, May 25, but a few of the viewers have already given their verdict. Moviegoers, who have watched the movie in special screenings or in the UAE, in their reviews have praised this Abraham-Diana Penty starrer.
Abhishek Sharma's directorial action drama was earlier slated to release in December 2017. The release date was pushed due to the controversy between production houses JA Entertainment and KriArj Entertainment. Parmanu will now finally hit the screens in India on May 25.
The Abraham-starrer is yet another movie about patriotism after Alia Bhatt-Vicky Kaushal starrer Raazi. The film is about a forgotten chapter from the history and is based on the Pokhran II nuclear blasts conducted by the Indian Army in 1998.
Abraham plays the role of an Indian army officer named Ashwat Rana, who is in charge to carry out the operation. He will have to select a team for the operation and make sure the information about the whole operation is not leaked out. While Abraham plays the role of Rana, Diana will play the role of Ambalika, an Indian army member.
"I asked Abhishek if he required some kind of gentleness to the character or if he wanted someone really strong. I was not sure what direction was to be given to this character. When I asked him he only said to watch Zero Dark Thirty. I had seen the film many times before but not from that perspective. There is nothing macho about Jessica Chastain's character, but again, there is nothing feminine too," Diana, while talking about preparing for her role, told Firstpost.
Read the audience reviews below:
The viewers, who watched the film, have said that the film is a must watch and it will keep you on the edge of your seat. Several moviegoers have said the movie is outstanding.
Ap @abhinandanpd: Literally....It was very hard to hold tears for last 5 -10 minutes. Kudos for such great patriotic movie.
Akash verma @akashvme: @TheJohnAbraham #Parmanu @johnabrahament brilliant work. Proud film for india. #bharatmatakijai #goosebumps moment.
Vishesh Kedia @kedia_vishesh: #PARMANU FANTABULOUS film. Stellar Performances by @TheJohnAbraham @DianaPenty . MUST WATCH film for every Indian. This film will make us all proud. Hope Audiences come in huge number and appreciate the film and praise our Historical Nuclear launch.
Muhammad Khan Sukhera @sukhera107: legends always makes a legendary things which can't forget after decades so you'r guys @DianaPenty @TheJohnAbraham really deserved congratulations. #ParmanuTheStoryOfPokhran
Kabir Duhan Singh @Kabirduhansingh: @TheJohnAbraham brother , just came out after watching Parmanu. Thanks for letting us know the hidden story. A must watch film. Kudos to your whole team. I am overwhelmed #Parmanu
shubshit @shubhambhura: Goosebumps, proud, safe all and so many other feelings together. I salute you all Sir/Mam... Must watch.
Prajna @prajnabhat_95: #Parmanu awesome movie #firstdayfirstshow done right... Awesome... Jus awesome.... So proud... Sir APJ Abdul Kalam... We salute you... @TheJohnAbraham @DianaPenty
mr.Babariya @BabariyaRm: @TheJohnAbraham @DianaPenty i just watched #Parmanu . Amazing movie. You six persons are so amazing. Greate work by you. Last countdown was like 6 runs needed from last ball and heart rate was increasing
ASHISH SHARMA @aashishsharma64: #Parmanu One Word Review - Outstanding. @TheJohnAbraham you nailed it your Best work till date. @bomanirani @DianaPenty All Actor's performance fantastic. Great movie and go and see you guys.
Anshu Panwar @panwar_anshu #Parmanu : A must watch movie... You will be proud to be an Indian. Thanks @ParmanuTheMovie team... @TheJohnAbraham @DianaPenty
Rajiv Vijayakar @rajivvijayakar: Fab movie #Parmanu Never in a film have I felt so proud to be an Indian as after #Sarfarosh & #AWednesday. And this film. @TheJohnAbraham
Prashast Singh @PrashastOnline: It's interval time. #Parmanu has a phenomenal first half with a neat execution and replete with a lot of thrills. Expecting some action in the second half.
Vibhu @victorvibhu said Parmanu will set to up a benchmark. "Plot, Cast , background score and of course @TheJohnAbraham & @DianaPenty have presented a gripping --realist cinema."
Abhishek Parihar @BlogDrive has watched it will interval and said he was totally moved by the film. "What Sarfarosh was for Aamir , Parmanu is for @TheJohnAbraham... Feeling a Proud Indian."
Rafiq Shaikh @Rafiq68 said John Abraham & Abhishek Sharma's movie is outstanding. "This is one story that had to be told..."
Dhiraj Sikarwar @dhirajTHEsingh said Parmanu is outstanding. "Movie based on the nuclear bomb test explosions conducted by the Indian Army at Pokhran in 1998. Pls go and watch the hidden facts of #Pokhran."
Shah @shahmology said that John Abraham has produced the best movie of the year, and his second best after Madras Cafe.
NEETESH GUPTA @NEETESH23 said the film is an excellent saga with nail biting finishing in climax. "The intriguing plot of this movie makes it contemptible to the credit of best movie this year. @TheJohnAbraham smacked his character cordially while @bomanirani is the show stealer. Recommended!"
Ketkimehta @goodhoodworld said the story had to be told. "Parmanu Seriously patriotic @TheJohnAbraham Brillinat Performance . Please Don't miss this film."
Watch Parmanu trailer below: