The Pakistani model, Alishba has revealed she met Mohammed Shami in Dubai, however, the entire meeting was termed as a mere "coincidence".
Shami has been making headlines for the wrong reasons for more than a week. His wife Hasin Jahan accused him of having an extramarital affair, assaulting her and even bringing the game of cricket to disruption by fixing matches.
Jahan suggested her husband took money from Alishba, when Shami met the latter in Dubai. The 28-year-old has stressed that he is innocent and went on to claim his better half has "lost her mental stability" after a series of allegations.
The Uttar Pradesh-born pacer was involved in an altercation with a Pakistan fan following India's defeat to their neighbor in the 2017 Champions Trophy final and made headlines for this incident in Pakistan and India.
Alishba admitted that her curiosity to know more about Shami led her to message the bowler on his official page. The Indian cricket replied to her and that led to their friendship. Alishba has already explained the details of their friendship.
When asked if she met Shami in Dubai, Alishba told ABP News: "Yes, I did meet him."
Shami was part of India squad for the South Africa tour earlier this year. On his way back home, the bowler had a stopover in Dubai. Alishba, who frequents Dubai to visit her sister living in Sharjah, was also traveling to the Middle East at the same time.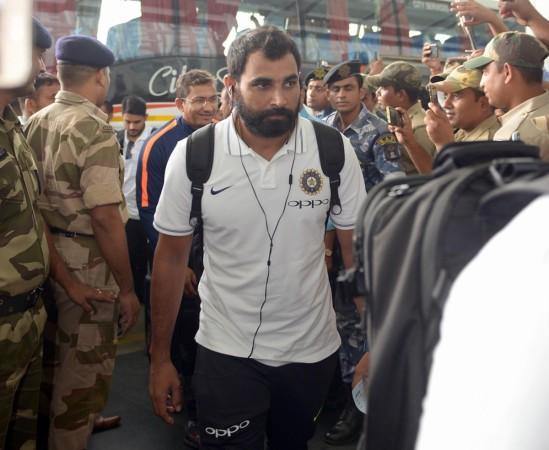 The model stressed it was a coincidence that she met her idol Shami in Dubai. There were reports the two met in a hotel room, but the "Pakistani girl" suggests she visited the pacer for an hour and had breakfast together.
"I keep traveling to Dubai frequently. My sister lives there. She lives in Sharjah," she explained.
"When I was made aware that Shami will travel via Dubai - and it was the same time I was visiting my sister - it was a coincidence that we met."
"His flight was from South Africa via Dubai. I met Shami on 18th morning because my flight was on 17th night. When I reached Dubai, it was already 18th. I met Shami at the airport."
"I went to meet my sister from the airport. I met him at the hotel around 8-9am. We had breakfast together at the hotel. Our meeting was how a fan would meet a celebrity. I was with him for an hour."