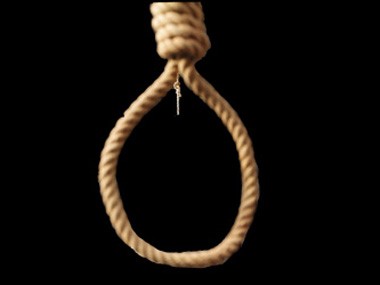 Even as Pakistan is on a hanging spree, executing 21 death row convicts in just two days, the mother of a young convict who is set to be hanged on Thursday has begged for his life.
Makhani Begum, mother of Shafqat Hussain, who was sentenced to death for the murder of a child in 2004, has filed a mercy petition pleading President Mamnoon Hussain to spare her son's life.
According to Pakistani media reports, Hussain was only 13 in 2004 when he was charged with kidnapping and murdering a seven-year-old child, and his lawyers have claimed that he was tortured into making the confession.
"I beg for new life for my son. Through this new petition, we beg pardon of the president and prime minister," the 65-year-old mother told The Express Tribune, adding she had not seen her son for the last 11 years.
"Shafqat, too scared and suffering from a learning disability, did not find it in himself to disagree with anything that the police had told him to say, for fear of being tortured again," she said.
Fatima Bhutto, author and grand-daughter of former Prime Minister Zulfikar Ali Bhutto, wrote an Op-ed in The New York Times headlined 'Pakistan's Moral Catastrophe: Don't Execute Shafqat Hussain', in which she detailed what she claimed was the brutal torture of the boy into confessing to the murder.
"The boy was held in solitary confinement, his genitals were electrocuted and he was burned with cigarette butts. The policemen interrogating him removed three of his fingernails," Bhutto wrote.
"Shafqat Hussain has now spent 11 years on death row on charges that have nothing to do with terrorism. He was not a militant; he worked, during his brief spell of freedom in Karachi, as a caretaker at an apartment building. He impacts national security in no way," she added.
Bhutto also called Pakistan's lifting of the moratorium on the death sentence following the ghastly Peshawar school attacks in December, as "a knee-jerk call for vengeance".
Pakistan has already executed 48 death row convicts since December, and on Wednesday hanged nine convicts.
The not-for-profit, human rights law firm, Justice Project Pakistan, which has called on Interior Minister Chaudhry Nisar Ali Khan to stay Hussain's execution, has claimed that there was no investigation conducted to ensure that he was a juvenile when he was given the capital punishment.
"President Mamnoon Hussain, with the advice of the prime minister, could entertain the mercy petition either by commuting the death sentence to life imprisonment or ordering a reinvestigation into the case," The Tribune quoted a retired judge, Tariq Mahmood as saying.