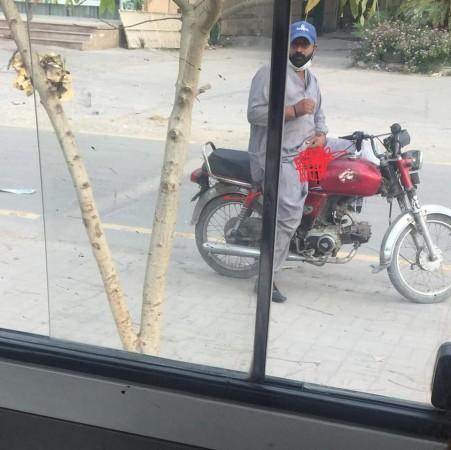 Photo of a man flashing his penis and masturbating in public in Pakistan has gone viral on Facebook and has sparked 'Mera jism, meri marzi' (My body, my choice) debate online.
The photo, which showed a man touching himself sitting on his bike and flashing his penis in front of a van, was shared on the Facebook page called Pakistan Speaks. The man was reportedly masturbating in front of a university van at Barkat Market in Pakistan's Lahore city.
The post was shared anonymously April 9 on behalf of one of the girls in the van. According to the post, the man wore his mask after someone took his photo.
"Today a friend in Lahore was in her university van. The van had stopped to wait for another van opposite Barkat Market. As they were waiting, a man on a bike rode by and flashed the girls in the van. His penis was out and he was masturbating. He went back and forth for about 4-5 minutes looking into the van of girls who had not just not consented to this but were also in their teens. My friend was able to take a picture of him after which he immediately put on his mask. The van driver was on the other side, waiting for the second van. When my friend finally summoned up the courage to say something, he left," the post read.
"Sexual harassment through public masturbation is a very real issue. I've seen men do it outside my university. Usually, rikshaw walas or bikers. I've heard my friends narrate similar incidents. I've seen drivers parked outside malls do it," the post read.
"When I was younger, I didn't tell anyone because I was scared I would be blamed. Please share this so that hopefully someone can recognize this complete piece of shit and he can at least be humiliated if not have his penis cut off.
"Men like this need to be publicly castrated."
The post sparked debate online with some people commenting in support of the girls, while others commented quoting the slogan "Mera jism, meri marzi". The slogan was used during the Aurat March 2018 on International Women's Day in Pakistan.
IBT India could not independently verify the photos. We have reached out to the Facebook page Pakistan Speaks and will update the story if and when we receive a response.