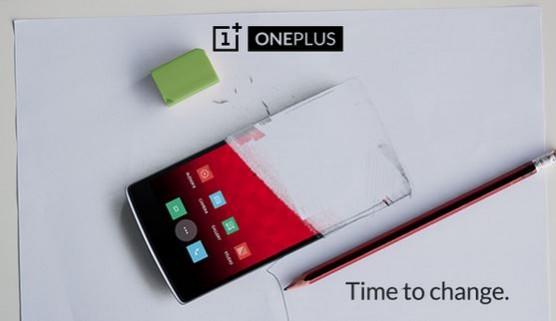 The key features of the soon-to-be-released OnePlus X has been leaked online, giving new insights on device's internal hardware.
Technology blog Gizmo China citing OnePlus' supply chain factory executives has revealed that the upcoming smartphone will have 5.0-inch display and house Snapdragon 801 series quad-core processor, not 2.2GHz MediaTek Helio X10 (MT6795T) as previously reported.
It has been learnt that the company has decided to use two generations old chipset to keep the production cost low as the phone is also said to come incorporated with advanced features like dual-camera module and fingerprint sensor on the rear-side.
Other features include 2GB RAM, 32GB inbuilt storage and 13mp camera on the rear-side.
The new OnePlus X is said cost $249 (around €223/ Rs.16, 340) and debut in a few weeks time, said the sources.
Even OnePlus India chief Vikas Agarwal in an interview with The Economic Times did hint that the company has plans to unveil the new device around Diwali, that means we may see the new OnePlus X around first or second week of November.
In a related development, OnePlus' co-founder Carl Pei has apologised to fans for the delay in OnePlus 2 invites distribution on his official blog page.
The company's failure to bridge the gap between demand and supply has made him think what he would have done differently to address production constraint. With no answer coming to his mind, Carl Pei, to everyone's surprise has openly asked Samsung to grant him an internship in their company, so that he could learn some tricks on managing the smartphone supply chain.
Pei is also willing to host Samsung's executive in OnePlus and show around works of the company. He said both OnePlus and Samsung can benefit greatly from this exchange program.
"I hope to hear from you, Samsung," said as he signed off.
Samsung is yet to respond to Carl Pei request. Stay tuned for more updates.